How to Get Your Man's Support for the Cherished for Life Weekend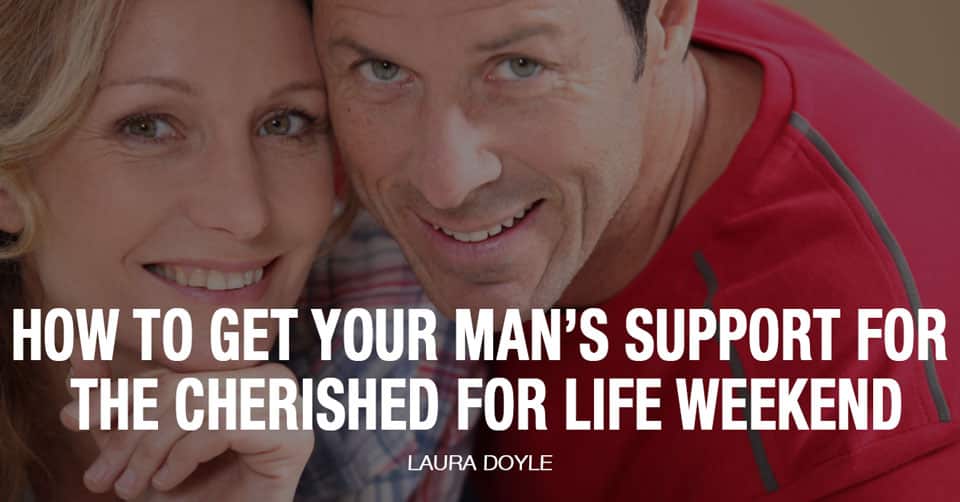 How to Get Your Man's Support for the Cherished for Life Weekend
He'll Be Happy and Helpful if You Use This Approach
I've gotten lots of emails about this recently. So, I decided that you can call me and ask me anything or join me live on FB (details below).
Let's say you want to spend some money, leave town for a few days and maybe get your husband's help with the kids while you're gone.
And let's say you want to do all of this without telling him exactly where you're going and what you'll be doing there.
How do you do that?
That's the situation you may find yourself in as you're trying to make arrangements to come to the Cherished for Life Weekend.
You want to come to the good-time getaway, hone your Intimacy Skills™ with all the other amazing women and renew your feminine spirit.
But you don't want to tell your man all the details.
You'd like to give yourself some privacy as you're starting out, and have room to experiment without him knowing everything just yet.
That's understandable.
Fortunately, he doesn't need to know everything to get behind the idea.
1. Express Your Desires in a Way that Inspires
Often a woman is surprised to learn that the only thing her husband needs to know to be on board with something she wants to do is that it will make her happy—even if it means he has the kids by himself all weekend.
"Not my husband!" you might be thinking. "He doesn't care about making me happy!"
That's what I thought too. That's what we all thought.
When your relationship is struggling, it seems like he doesn't care. At all.
But when you learn how to be respectful and express your desires in a way that inspires, you activate his hero gene.
It's not hard. In fact, it seems super simple once you learn how, and it's incredibly powerful.
Here's the magic formula:
"I would love… [final outcome]."
In this case it would be "I would love to go to a women's weekend in Costa Mesa, CA near the end of September."
That's it.
I know it may be tempting to say a lot more, but consider experimenting with stopping there. See how he responds.
2. Less is More
If you're anything like me, you think he's going to want to know details like what it's about, why you're going, how you heard about it and who you're going with.
And you're worried because you don't want to say, "I'm going so I can figure out how to get your time, attention and affection."
That's a good instinct you have to keep mum about that part.
What's weird to me is that husbands don't usually ask.
That might seem weird to you too. But I've heard from many women that once they express a desire like that, their husbands just say, "Okay."
As in, "Okay with me. Go ahead."
Sure, he might want to know logistics, like how much it costs or which days you'll be gone.
But men rarely ask what we're going to talk about.
So why get into it if he's not asking?
Once he says okay, just move along to the next thing. You're all good.
Really!
3. He'll Like This Part
Let's just say, though, that your husband is the exception.
Let's say he DOES want to know what you're going to do at this women's weekend.
Then what?
Here's something authentic you can say that will also be appealing to him and keep you out of the details you'd rather not share:
"I'm going to learn how to be a more respectful wife."
That would be like him saying he's going somewhere to learn how to be a more romantic, adoring, attentive husband.
You'd likely support that kind of weekend getaway for him, right?
He'll feel the same way.
4. What if I Can't Go There?
Maybe you're not in a position to check with your husband about anything.
Maybe you haven't been speaking. Or you control the money and everything else at your house.
Sometimes a woman won't even consider coming to the Cherished for Life Weekend because she thinks her relationship is too broken. She fears her situation is hopeless.
She thinks she would feel out of place because her husband is having an affair or has filed for divorce or he says he doesn't love her anymore. Sometimes he's living with the other woman, or he's moved out and has no contact.
Just so you know, you're not alone.
One of the most inspiring things about our community is the number of women who have not only saved their marriages from situations like those, they've made it passionate again.
There are always new women arriving here who wonder if it's possible for them too.
Probably the hardest part for them is to have faith that they can come out of their crisis with a marriage that's better than ever.
And one of the best things about the Cherished for Life Weekend is that they start to believe it.
And once they believe it, there's really no stopping them.
I mean, it would be a little silly if only women with good relationships could come to get the Intimacy Skills.
That would be like saying you can't go to the gym until you get in shape.
Whatever is happening in your relationship, the Weekend is for you too if what you want is to make your relationship the most gratifying, peaceful, passionate one it can be.
That's what we all have in common: our commitment to making our relationships great, no matter where they start out.
With the firm belief that strong relationships mean stronger families and stronger communities and a better world, we gather to cheer each other on in the worthwhile quest to feel loved every day.
And along the way, every woman who comes makes a contribution to the mission to end world divorce, starting with making her own marriage vibrant and amazing.
That's what happens at the Cherished for Life Weekend.
I look forward to meeting you there.
Still have questions? Join me on FaceBook Live Today (Thursday, 8/17/17) at 5pm PST/8pm EST for The Top 5 Ways the Cherished for Life Weekend will Give You an Unfair Advantage in Your Relationship.
OR
Call and talk to me LIVE on Friday (8/18/17) at 6pm PST/9pm EST and ask me anything about the Cherished for Life Weekend. I'll answer all your questions and help you decide if it's right for you.
Attend by Phone:
Guest pin code: 455409#
Primary dial in number: (425) 440-5010
Full list of dial in Numbers: http://InstantTeleseminar.com/Local/
or
Attend by computer:
https://iTeleseminar.com/100709940
---
What to do next…
Sign up for our FREE introduction course:
Join us at our next webinar, where we'll go over key secrets that you can use to inspire your man, get respect and reconnect. View our next available sessions and sign up here.
Here's why more than 15,000 women have trusted us to help improve their relationships...
Led by renowned marriage coach Laura Doyle, a best-selling author, creator of The Six Intimacy Skills™ and - her greatest achievement - a playful, passionate relationship with her husband John.
A revolutionary and proven framework that has changed and empowered 15,000 women in over 30 countries worldwide.
Comprehensive learning resources to build skills your way and at your pace, including books, online modules, videos, workbooks, live coaching, community forums and more.
Supported by a great community of women like you, who have all known the heartbreak of a broken, loveless marriage and walked the road of transformation to a happy, passionate relationship once again.