My Husband Is Not Romantic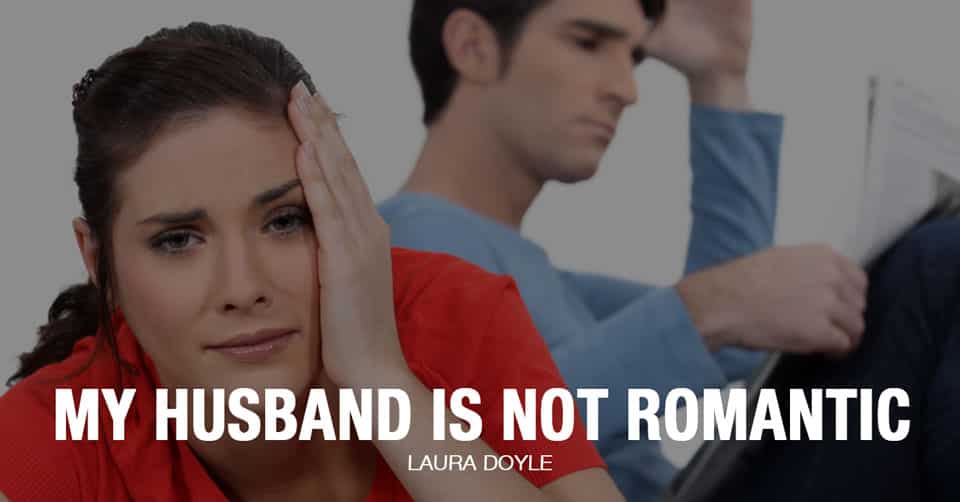 How I Found My Own Don Juan and Stopped Feeling Alone in My Marriage
By Mari-Jean Phillips-Anderson
Laura Doyle Certified Relationship Coach
I told my husband I wanted to write this blog and asked what he thought had changed for us since I first read The Surrendered Wife.
"Well," he said, "It really helped you when I was in Afghanistan." Nope, that was way before.
"Well," he said, "It helped you when your sister died." Nope, that was way before too.
He went on to mention several more incidents that preceded my introduction to Laura Doyle.
Pre-Laura Doyle, I would have gotten up and walked away in disgust, pitying myself for getting hooked up with this unseeing, unfeeling, uncaring entity.
But here's the magic: I let him speak and, boy, were my eyes opened.
As a (mostly) surrendered wife, instead of being furious that he wasn't answering my question accurately, I gave him the time he needed to say what he wanted to say. I found out that he really did know what had been going on in my heart for the last decade. In fact, he was more poignantly aware of my pain and loneliness than I was.
I really didn't know he knew. I honestly thought he had neither noticed nor cared that I felt truly alone in this marriage.
He went on to say, "I guess the most important change was that I feel I can talk to you and tell you things I couldn't tell you before, that you praise me for the things I do even if they are half-[hearted] and you don't nag me about what isn't finished. I don't know how I got so lucky to have you love me like that."
No, really—he said that! My husband said that!
I was floored. My heart swelled with joy and gratitude for this loving, caring, aware man who chose to come home night after night for years to an unhappy wife simply because he believed in our love and that somehow it would work out.
He believed in me.
I had to learn to believe in him.
Surrendering gave me the skills to let him be the man he wanted to be for me. He only knew how to be who he was.
When I was hurt because he didn't romance me the way I thought I wanted, we were two miserable people. When I learned to let him romance me the way his heart told him to, I met a very romantic man.
Eleven years ago, for my first birthday as his wife, he gave me a navigational device for my car. I was crushed.
It was only recently that, in a discussion about gifts, I heard him say, "I wanted to be sure you could always find your way home."
You see, I used to be on the road all day and was often lost. I'd been so hurt thinking he didn't care that I couldn't hear how truly romantic that homing device was.
Likewise, Valentine's Day was historically a deeply disappointing day for me.
Last Valentine's, however, I woke up and went into the bathroom to find a heart of silk flowers suspended from the ceiling.
Balloons in the hallway.
On the counter, he had shaped XOXOs out of licorice sticks.
Tied to the oven, another balloon.
Plastic hearts and kissy lips on the glass doors.
There also, in the middle of the counter, was a gorgeous bouquet of roses.
I'd been single for most of my adult life and always measured love by Hollywood's standards: a dozen roses, jewelry, fancy dinners, beautiful dress-up dates, romantic words… You know the drill—you've probably seen those same movies.
Once we were married, I tried to help my husband understand what he had to do to show he loved me, but he just didn't seem to listen. I couldn't believe I'd ever married him. All those great guys, and this one turned out to be such a dud.
Laura Doyle taught me to stop talking and start listening. To stop directing and to enjoy the unfolding of my own Love Story.
On that wonderful Valentine's Day, I saw some flowers that a florist had put together. I also saw the real evidence that I was loved and that my feelings were treasured.
I saw the things that my husband had gathered and crafted together because he really had heard my heartsong through the cacophony of our lives' daily noise.
He had thought of me in every room. He remembered the candy I would eat; he knew where I would walk next, which door I always used.
He knew these things because he loved me. He knew me. He listened and he watched me. He paid attention to me.
The Intimacy Skills™ taught me how to let go of my expectations and let my husband love me in all the ways he could. By using the Skills, I learned to see and appreciate all the things he brings to our life together. I learned to believe that he has the right to his own thoughts, his own beliefs, his own way of doing things.
I learned to listen deeply.
Four years ago, I felt alone and lonely and completely defeated by my marriage. I tried everything, but I couldn't make my marriage work the way I wanted it to.
I would buy Groupons to nice restaurants, but he was always too tired to go. I would buy him clothes that he would never wear. I looked for and focused on lots of evidence that he didn't care about me.
I read The Surrendered Wife for further proof that the marriage was hopeless. The book was interesting and made sense. But I knew that my husband would never change. I was so jammed up with opinions and anger that I was loath to give him the slightest chance. I didn't think he deserved it.
Somehow, Laura got through to me. I struggled so much with relinquishing control. I used plenty of duct tape. Cartons! Little by little by little, change happened. There were baby steps, giant steps, huge forward leaps and, yes, backward slides. But, it happened. Is happening.
Last week, after a trying week with visiting relatives, we were driving home from dropping them off at the airport. When we passed a drive-in movie, I said, "Hey. Want to go to the drive in?"
He looked at me and said, "No, not really."
That was all I needed. I launched into a dissertation about how we never do anything fun. He looked at me again and said, "No, never. Not when we are…" and listed the last dozen fun things we had done together.
"Well," I said, "If you're going to be reasonable about it, I'm not talking to you anymore." We had a good laugh, and I realized my self-care tank was seriously on empty.
Before surrendering, he would not have answered me in the first place, and his silence would have made me furious. Now, I can be cranky, I can apologize, I can agree or disagree.
I can love my husband, without reservation!
And, I can feel loved by him. Without reservation.
Truly, I have found my heart's desire, and it was right in my own home.
This stuff works.
---
What to do next…
Sign up for our FREE introduction course:
Join us at our next webinar, where we'll go over key secrets that you can use to inspire your man, get respect and reconnect. View our next available sessions and sign up here.
Here's why more than 15,000 women have trusted us to help improve their relationships...
Led by renowned marriage coach Laura Doyle, a best-selling author, creator of The Six Intimacy Skills™ and - her greatest achievement - a playful, passionate relationship with her husband John.
A revolutionary and proven framework that has changed and empowered 15,000 women in over 30 countries worldwide.
Comprehensive learning resources to build skills your way and at your pace, including books, online modules, videos, workbooks, live coaching, community forums and more.
Supported by a great community of women like you, who have all known the heartbreak of a broken, loveless marriage and walked the road of transformation to a happy, passionate relationship once again.