Laura Doyle Relationship Coaching
As featured on CBS Evening News, The Today Show, Dateline, The Los Angeles Times, Time Magazine…
"This is the Program That Will Help You Create Intimacy, Passion and Peace In Your Relationship…"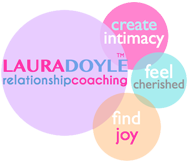 On this page is everything you need to make your relationship tender, connected and playful again – even if it's been broken for years.
(Ready to register? You'll find that here.)

Dear Wives and Girlfriends
(Singles, you'll want to read
this
)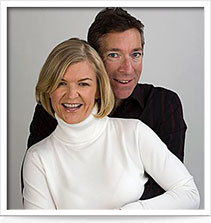 I've been a relationship expert and best-selling author for over 12 years. I started out as an unhappy wife. Everything in my marriage was a mess. My husband was distant and preferred watching TV to my company or even making love to me. I was responsible for everything because he just couldn't seem to do the simplest tasks, and I was afraid to get another late notice on the bills. We even got to the point where I was supporting us both because he had quit his job and wasn't working. Nor would he do any housecleaning while I was working all day. We had a lot of big fights, with silent cold wars in between. I was seriously considering divorce.
We went to couples counseling, but things just got worse. There was no such thing as relationship coaching at the time. Finally, I started asking women who had been married 15 years or more for their advice–and that's when I was in for a real shock. What they told me was so contrary to what I'd seen my mom do growing up that it just didn't make sense to me. Still, I was willing to try anything to avoid the pain and embarrassment of getting divorced, so I decided to give their suggestions a go. When some of those seemingly crazy suggestions worked, I kept doing them. Of course, not all of them did, but after a while I saw a pattern.
I ended up with just six skills that really had an impact on the happiness and connection level at my house. I kept doing those six things, which I called the intimacy skills, as best I could. Honestly, I wasn't very good at them yet because I was still learning and finding my way. It took me a couple of years to figure it all out. But I could see that when I stuck to the six skills, things improved immediately. When I didn't, well, things didn't go so well at our house.
I started enlisting my girlfriends to try out the six intimacy skills and I think this was my first attempt at relationship coaching. We met in my living room to talk strategy and have lunch. Our mission was to restore our marriages to their original glory. I wasn't sure if the six skills I'd learned would work for them too, but it didn't take long to find out. They showed up with romantic stories and signs of success for their relationship and even their finances. One husband got a raise, another one won a sales contest and took his wife on a trip, and another painted the den that they'd been bickering about for months. That was just the outward evidence that something in those relationships had shifted for the better.
A few months later I was noticing my husband was being so thoughtful, and that he looked so handsome. I noticed he was taking more initiative–from announcing we were going out to dinner to deciding it was time to stain the deck so initiating sex. He started his own successful business and took over handling the household bills so I didn't have to worry about them. He was also doing the dishes without me having to ask him six times––or at all. He wasn't watching as much TV or looking as depressed and dejected. My friends were commenting that my husband looked different. "What's changed?" they asked me. I knew that the six intimacy skills were doing their magic because we were laughing together again, and holding hands, and enjoying physical intimacy like we hadn't been for years.
All of the women who met in my living room noticed their husbands were becoming more romantic and thoughtful. We felt more desired and attractive–more dignified too. Our husbands were more attentive to the kids and were helping out around the house more. They seemed happier and we were too. We couldn't believe the transformation. It was like we had figured out a way to turn the clock back to the beginning of the relationship when it was so exciting and we felt so adored.
Word spread, and dozens of women came to me for help. I showed them the six intimacy skills and gave them relationship coaching, and the results were always the same. When a wife learned and practiced those skills, her relationship improved dramatically in about two weeks. One of the things women would say a lot was, "I feel like I have a new husband!" But of course, he wasn't the one who changed–she did. And then he responded to her differently.
It took me a lot of years, a lot of hard work, and a lot of trial and error to figure all of this stuff out.
Now, I'm sharing all of my knowledge and know-how with other women–women who are married, or who want to be married, or who want to learn these skills well before they get married (that's what I wish I had done!). And…
I'm very happy to say that women are doing very well with everything they're learning! I've poured my heart and soul into this relationship coaching program and it's 100% guaranteed to make you happy and help you have the intimate, peaceful, passionate romance you deserve, even if your marriage has been broken for a long time. So far it's worked for thousands of women, in 26 countries and 15 languages.

Here's what I've Created To Support Your Relationship
and Your Happiness…
Laura Doyle Relationship Coaching
Twice-a-month group coaching calls with step-by-step Intimacy Skills Training
Exclusive access to The Solutions Forum
Habit-forming homework
Laura Doyle Small-Group Relationship Coaching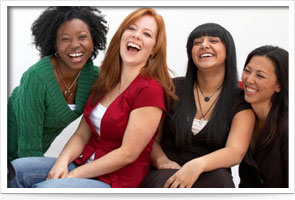 There's something magical about doing this work in a group, and it took me a while to realize what a difference it makes. When you hear another woman describe a problem you're having and didn't even think to bring up, the solution just clicks faster and deeper. Or you might be secretly relieved to hear someone you've grown to like admit that she threw a bag of cereal at her husband–proof positive that we've all done things in our relationships that we're not proud of. Just knowing there were other women like me was so comforting and fortifying–I thought of them whenever I was furious with my husband, and thought about how they were expecting me to do my best to cultivate an intimate, passionate, peaceful marriage. It helped me be more successful than I would have been by myself.
I've designed the small-group relationship coaching program to take you step-by-step through the skills and also give you the same benefit I had in my living room: the support of other women. Not only will you learn and practice the skills during each phone call, you'll get to hear other women asking questions about their relationships. You'll also get to ask your own questions so you know exactly how to approach your unique situation, and believe me–anything goes! There's something about the safety of the group and the anonymity of the phone (you don't have to use your real name) that makes it so we share very deeply and very personal details. Some of the situations you will hear are gripping, some are heartbreaking, many are inspiring and they're all riveting. A lot of them will remind you of your own relationship.
Your homework between relationship coaching calls is to practice just one specific skill so that it gets to feel familiar and becomes a habit. And don't worry if you miss the call–you can listen to the recording later. That said, don't miss the calls–there's such magic in being on the call live. You'll see what I mean after you experience it yourself.
This step-by-step relationship coaching program will eliminate the frustrations and struggles in your marriage by showing you how to inspire your man to want to make you happy and treat you tenderly. It will also help free you up from having so much responsibility and eliminate a lot of bickering and blowouts. Your physical intimacy will improve, of course, and so will your prosperity as a family. You might think that's an outlandish claim, but I've seen it too many times to doubt it. There's a very good scientific explanation for it, which you'll learn about on the calls.
Whether you think your man is too clingy, too distant, too angry or too wimpy, you'll discover how to cultivate a relationship that will lead you to say "I can't believe how wonderful my husband is."
Create Intimacy Now

Watch your love life transform starting today! Learn and practice the practical, proven habits that create connection, passion and peace immediately.

Get more gifts, compliments and Help

Attract more tenderness as you increase your capacity for being cherished, which also makes you more beautiful. Get the help you need with everyday chores.

Restore Your Dignity

Become more attractive as you calmly express your desires in a way that inspires. (Great for family, friends and co-workers also.)

End Loneliness and Conflict

Learn the tools to prevent drama, distress and distance and live in a sweet, loving relationship. You also get more energy for your life's purpose.

Honor Your Feminine Spirit

Get the self-care and special treatment you deserve when you make yourself happy by amping up your pleasure, relaxation and fun.

Gain an Amazing Community

Gain a wealth of wisdom from your intimacy coach and the courageous, funny, inspiring new friends in your Self- Care Circle.
The 30 Day "Get Happy" Guarantee…
I want you to feel very comfortable making the decision to enroll in relationship coaching, so I'm taking away all of the risk. You shouldn't have to wonder if this program really works. I think it's only fair for you to be able to try it out for yourself and make sure it works. So . . .
I'm giving you 30 days to listen, learn, and test it out yourself. If you don't LOVE it, and actually see it working in your relationship, then you don't have to pay for it! If you don't love my relationship coaching program, just let us know why and you will get a full refund!
I know how gratifying it is to finally have a happy, easy, loving relationship after spending several miserable years thinking I was going to have to get divorced. Sometimes I'm so happy to be in such a sweet, supportive, playful marriage it moves me to tears. I don't want you to rob yourself of this kind of relationship one second longer. Please try out this program and watch the transformation take place!
I wish you the best in your romantic relationship. If you try my relationship coaching program, I'd really like to hear how it's working for you. I believe that women who learn these six intimacy skills and use them to create intimacy, passion and peace in their homes are a powerful force for change on Earth. If every woman in the world had these skills, we could end divorce. It would really make a difference.