Six Surprising Secrets for Attracting Your Husband's Time, Attention, and Affection
The Empowered Wife reveals the wisdom of real women in real marriages and breaks down the specific practices--The Six Intimacy Skills--that make them feel desired, cherished and adored by a man every day for life. These Six Intimacy Skills have worked for over 150,000 women all over the world.
"The Empowered Wife is better than a marriage counselor. If you are living in a soured marriage, you should apply these techniques. If you are newly married or still enjoying married life, you should read and apply these skills to keep the marriage happy."
-The Washington BookReview
New York Times Best Selling Author
All copies signed by author!
Read Sample Chapter>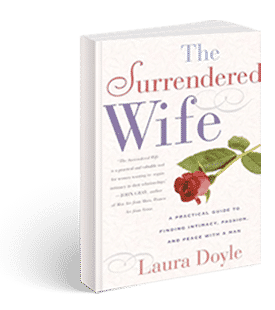 A Practical Guide to Finding Intimacy, Passion and Peace With a Man
This controversial approach to marriage has transformed thousands of relationships, bringing women romance, harmony, and the intimacy they crave. Like millions of women, Laura Doyle wanted her marriage to be better. But when she tried to get her husband to be more romantic, helpful, and ambitious, he withdrew -- and she was lonely and exhausted from controlling everything. Desperate to be in love with her man again, she decided to stop telling him what to do and how to do it. When Doyle surrendered control, something magical happened. The union she had always dreamed of appeared. The man who had wooed her was back. The underlying principle of The Surrendered Wife is simple: The control women wield at work and with children must be left at the front door of any marriage. Laura Doyle's model for matrimony shows women how they can both express their needs and have them met while also respecting their husband's choices. When they do, they revitalize intimacy. Compassionate and practical, The Surrendered Wife is a step-by-step guide that teaches women how to:
Give up unnecessary control and responsibility
Resist the temptation to criticize, belittle, or dismiss their husbands
Trust their husbands in every aspect of marriage -- from sexual to financial And more.
New York Times Best Seller
All copies signed by author!
Read Sample Chapter>
Want to order it in Spanish click below:
LA Esposa Entregada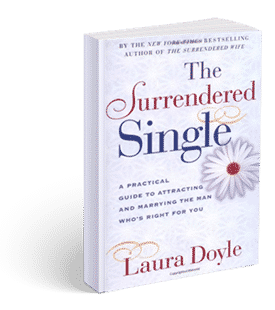 A Practical Guide to Attracting and Marrying the Man Who's Right for You
This controversial approach to dating has given thousands of single women everything they need to attract romance, intimacy, and a marriage proposal - while answering the question, "Where are all the good men?" A Surrendered Single doesn't have to look for Mr. Right - she attracts him. In her popular workshops, Laura Doyle has taught thousands of accomplished women the principles of The Surrendered Single. They are simple: when you try to control who asks you out, when a man will call, or corner him into a commitment, you drive him away. When you let him woo you instead, tenderness and romance appear. You enjoy the pleasure of being pursued. You feel confident, feminine, and dignified. Dating becomes fun again. Marriage follows. You stop going it alone. Practical and compassionate, The Surrendered Single is a step-by-step guide that teaches women how to:
Ask men to ask you out so that you always have a date
Avoid the remorse of, "I wish I hadn't said..."
Judge a man's character in 30 days or less
Become your best self and attract a man at your level
Whether you're recovering from a breakup or divorce, already on the dating scene or wanting to take your current romance to the next level, The Surrendered Single will show you how to have the relationship you've always dreamed of...
New York Times Best Selling Author
All copies signed by author!
Read Sample Chapter>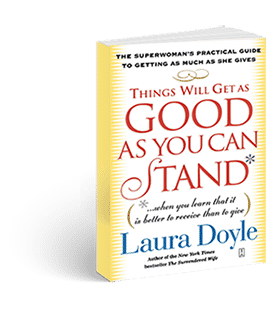 ...When You Learn That It Is Better to Receive Than to Give
Why do the things you want elude you? Intimacy. Validation. Romance. Nice things. More time. Most women wish for these every day. In Things Will Get as Good as You Can Stand, bestselling author Laura Doyle says that all of these things are available to us, but receiving them makes women feel uncomfortable. We turn away praise at work, help with the house, an expression of admiration so that we appear to be in control. The result is a Superwoman Syndrome: we are overworked and exhausted -- and we feel alone. Things Will Get as Good as You Can Stand, Doyle provides steps for overcoming the Superwoman Syndrome and explains why:
If you act like you don't deserve something, everyone else will agree
Saying what you want makes you more beautiful
Grateful women have better romantic relationships
You should let a man support you
You have to be vulnerable to get emotional help
With her trademark practical approach, Doyle explains why it is "better to receive than to give." She guides you to accepting what you are offered with ease and kindness, which is the expressway to having what you want.
New York Times Best Selling Author
All copies signed by author!
Read Sample Chapter>