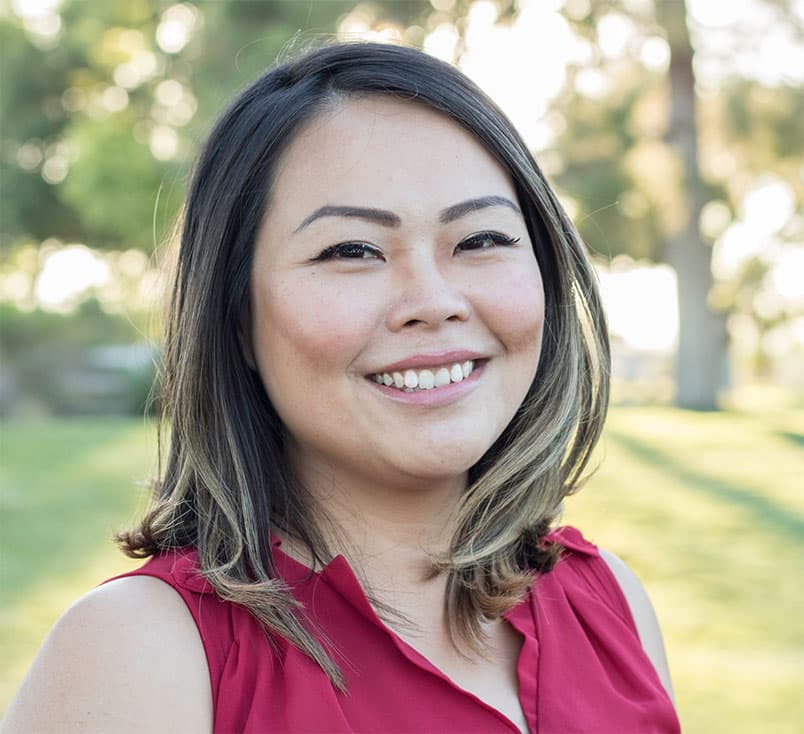 Katherine
Laura Doyle Certified Relationship Coach
Life & Relationship Coach
My Story
Our love lives need support. There's so much to interpret in the dating world and plenty of clashes to work through when it comes to engagement and marriage. Haven't we all felt misunderstood at some point or another, or found it hard to even understand ourselves?
Professional Headhunter
Before she started coaching relationships, Katherine Wong-Velasco was a professional Headhunter, pairing talented executive professionals with multinational corporations. She has trained and worked with various assessment tools to understand how our personalities, learned skills and emotional lives work together within us. She understands how to first see and then bring out the best in someone.
Examining Past Relationships
For a long time, she felt she had to find a man of similar background to her — well-educated and ambitious in their career. She was ready to settle down and get married, but it just wasn't happening. Then she read "The Surrendered Single", and she started to examine her thinking. Why not go 'outside the box' when it comes to dating? What if she had been overlooking someone brilliant just because his path didn't match hers? She realized that the relationship that would make her happiest would never come if she tried to force her own goals on it. She let go of her old notions, tried some different strategies, and found the wonderful man that would become her husband. Her past relationships weren't mistakes; they were a learning ground for the future.
"I had high expectations, any man I dated had to fit a certain mold. This mold was governed by my own fear and the ingrained traditions of my background. I was frustrated by a couple failed relationships, and wondered why. Then I read "The Surrendered Single" and decided to incorporate Laura's Intimacy Principles into my dating life. I started accepting dates from people I wouldn't have considered in the past. I prioritized enjoyment and intimacy, instead of calculating how well the guy fit my expectations. Then I met my husband. We're very different people, but this is something I appreciate deeply. There is a way to be happy inside that difference."
Improving This One
Trying to control too much is a symptom of our fears — of being rejected, getting hurt, or losing intimate contact. Katherine works with you to acknowledge and manage the influence of your fears, whether these center around entering the dating scene, navigating your way to marriage, or after you've married someone.
A Valued Advisor
Katherine has long been sought for advice on getting dates and growing love. Friends from around the world and her native home of Hong Kong have relied on her for "nurturing but realistic" advice. They know Katherine "takes decisive steps" and "gets things done completely".
She also has a special understanding of dating and relationship issues that affect people with Asian cultural backgrounds. These may include:
Overcoming pressure to get married by a certain age
Negotiating the parents' role in your relationship
Finding esteem for yourself and your unique situation; overcoming pressure to compare yourself others
Letting go or overcoming the "Princess" mentality (e.g. placing too much importance on fine dining and expensive gifts) for yourself or the people you are dating
Taking a relaxed, enjoyable approach to dating and growing relationships
The Dating & Relationship Support You Want
Seeking support for your love life is the first step to a healthy, intimate relationship. No man or woman is an island, and problems with intimacy and emotional connection cannot be solved alone. What you may see as an impossible hurdle in your love life, Katherine will show you it is just an adversity to overcome. With your willingness to make a change and Katherine's positive, compassionate mental attitude and organized, results-oriented approach, you will soon see yourself thriving in the relationship you've always wanted.
Testimonials
"What makes Katherine such an effective coach is that she knows how to listen.  She gives you her full attention and lets you say whatever is on your mind.  She can identify the relevant issues right away, and then she will help you explore the other sides of a situation which you may not have considered before.  She gives intelligent and well thought out advice based on her experience, and she will always tell you about your different options.  She's helped me understand that there are several ways to look at and to solve any problem.  I can honestly say that Katherine has given me unique insight about myself and that I always learn something each time I'm with her."

-Ya-Di Wei, Hong Kong
"For as long as I've known Katherine, I've gone to her for dating and relationship advice. She is nurturing but realistic. She knows how I operate and her advice reflects that. I feel like her intuition and sense for people is really strong, too. She has been spot-on so many times. She was so happy for me when I met my husband, and we continue to talk via Skype about our relationships, how they're going, how they can improve. Understanding and getting support for your love life is so important, and I'm grateful for her!"

-Amy B., U.S.A.
"Katherine is an extremely kind, generous and open-minded lady and since I have known her has been a warm and caring friend. She is easy to talk to, an attentive listener and I trust her opinion and guidance in times of stress and trouble.  I have every faith that she will be able to help you on your relationship journey."

-Caroline B., Singapore
"I see that Katherine thinks about relationships in great detail. She sees relationships from many different facets. I am always struck by how she thoroughly analyzes a relationship and realizes the possibilities of how it could progress.

We live far from each other and each time we meet, I appreciate the friendship that we have established over the years.  She managed to stay in touch with me and is attentive to what's going on with other long-distance friends.  She is a connector of our group of friends.  I also see that she has built particularly good relationships with her girlfriends.

Katherine always impresses me when she sets her mind on a goal. She takes decisive steps and gets things done completely: from completing an MBA degree, to buying her own home, and now, to becoming a Relationship Coach."

–Andrei L., U.K.
Laura and I want to help you have the same kind of intimacy, passion and peace in your relationship. To learn how, apply for a Discovery Session here.