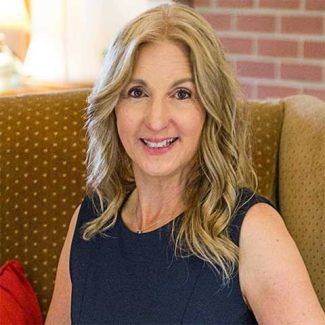 Laura Doyle Certified Relationship Coach
It's Not Too Good to Be True
After years of dating men who did nothing but disappoint me, I finally found the man of my dreams.
We met at a summer camp for young adults and fell madly in love. Six months later, we were exchanging our vows and moving into a lovely rental house near the beach.  I felt like I was dreaming and someone needed to pinch me.
The first few months were absolute bliss!  Wow!  I didn't realize marriage could be so sweet.  We were so happy just being together, taking walks on the beach, talking about our goals and dreams while snuggling close by the fireplace and eating our favorite foods.
Then reality hit when I found an outrageous $400 electric bill!  Our charming house had one down side, electric heat, which could get expensive in the frigid winters on the coast of Maine.  Being the frugal one, I got angry with my sweet husband because he had been keeping the thermostat too high!  I corrected him and told him how he needed to be more careful and how we couldn't afford to spend that kind of money.
Somehow I had taken control of the finances as my full responsibility–my first mistake.  It was becoming obvious to me that he wasn't very good at it.
My critical outburst quickly led to an argument, which caused him to put a wall up and try to defend himself.  I was the prosecuting attorney trying to prove him guilty of being negligent.  It was not pretty.
It was our first fight!  I hated to lose the intimacy we had been enjoying.
After that, it seemed like there were more and more things we didn't agree on.  We even argued about how often we would make love.  (Oh my, I didn't realize men thought about this so much!)  Our needs and desires were quite different in this area, which caused a lot of conflict between us.
We also thought differently about how to spend our weekends.  He wanted to stay home and putter or work on the car, whereas I wanted to do something fun like camping, antiquing, or exploring state parks like when we had first met!
Having children complicated things even more.  We had different ideas on discipline.  I thought he was either too firm or too permissive.  He didn't engage enough when I needed him too, but if he did, I criticized him for doing it wrong.
Then there was the problem with him being messier than me.  I habitually complained about him leaving things where they didn't belong.  Or that he wasn't getting a home project done quickly enough.  It seemed like I was always unhappy with something he wasn't doing right.
Even when he did complete something, I always had another project waiting for him before showing gratitude for what he had done.  He spent a whole week building a great swing set for our kids, then I started demanding that he start on the bookshelves for the living room.
I ordered him around and treated him like a little boy who needed my permission to do things.  I was stressed out, fearful and always had to have my way.  Needless to say, control was an issue for me.
The discouraging part was that a whole collection of marriage books lined my bookshelf, but I hadn't found the answer to having the marriage I truly desired.  I thought I had grown in my understanding of men and women and how they thought differently and had different needs.  Our marriage had improved over the years, but I knew we hadn't arrived yet!
Then one day my sweet, kind husband said to me, in anger, "You just don't GET IT!"
That hurt!  I had tried to be a good wife.  What was I missing?  I felt like I would never get this right!  After a good cry and alone time, I came across one of Laura's blog articles and found the missing piece of the puzzle: The Six Intimacy Skills™!
I devoured her material by listening to the audiobooks while walking around my neighborhood but didn't want the information to stop.  So, I took another step that would turn out to be a major milestone in my life and signed up for the Laura Doyle Relationship Coach Training program!
This allowed me to immerse myself in the material at the highest level and grow in my understanding.  I learned how to share things with my husband so he felt respected while I stayed true to my wants and desires.  I began to appreciate him instead of criticizing him.
I started to GET IT!
And I saw a huge difference in his response.  He started pursuing me like when we were first dating, wanting to spend time with me, buying me little gifts and initiating weekly dinner dates!  We started getting close again, talking and sharing our hearts like before.
Even our finances improved as I let go of my fear and chose to have faith instead.  I tried building him up instead of tearing him down.  He grew more confident and even got a promotion!
As I applied what I learned more and more, my marriage became magical again!
I've learned I don't have to give up on my dream to have the relationship I've always wanted because I'm living it!  I also found purpose and fulfillment as I experienced transformation in my marriage and gained knowledge on how to help other women have the same amazing breakthrough.
Laura and I want to help you rediscover the intimacy, passion and peace in your marriage.  Click here to apply for your FREE Discovery call.