AN ENLIGHTENING NEW TALK SHOW FROM THE AUTHOR OF THE SURRENDERED WIFE
ABOUT THE SERIES
In this powerful new series, Laura Doyle is our guide to the practical application of The Six Intimacy SkillsTM–women-centric practices that restore playfulness and passion in relationships. In each episode, Laura engages with a member of the studio audience, helping her transcend the challenges all women face with their husbands and boyfriends, and highlighting how to:
Attract his attention like a magnet when you relax more and do less
Receive affection not because you told him to make more of an effort, but because he naturally seeks you out
Feel more like yourself…and like yourself more
Inspire your man to take more initiative for things like vacation planning, housework and lovemaking
Get more thoughtful gifts, heart-felt compliments and sincere apologies–even if he never does those things now
Trigger his hero gene so that he focuses on making you happy and becoming a better husband and father
With humor and heart, Laura guides both guests and viewers to quickly shed their fears and awaken to new possibilities for their relationships. Watch as each of Laura's guests have life-changing insights, and many experience radical transformations as a result of their brief but always profound conversation.
Empowered Wives
With Laura Doyle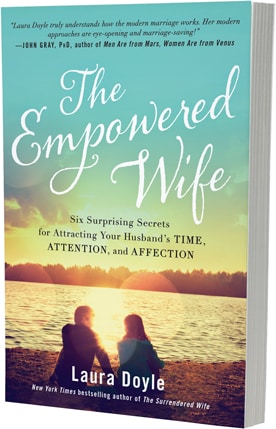 ABOUT LAURA
Laura Doyle is a New York Times bestselling author whose books have been published in 19 languages and 30 countries. The thing she is most proud of is her happy marriage to John Doyle, who has been dressing himself since before she was born.
Take the Free Get Cherished Challenge and read a free chapter>