How to Save Your Marriage when He Won't Even Try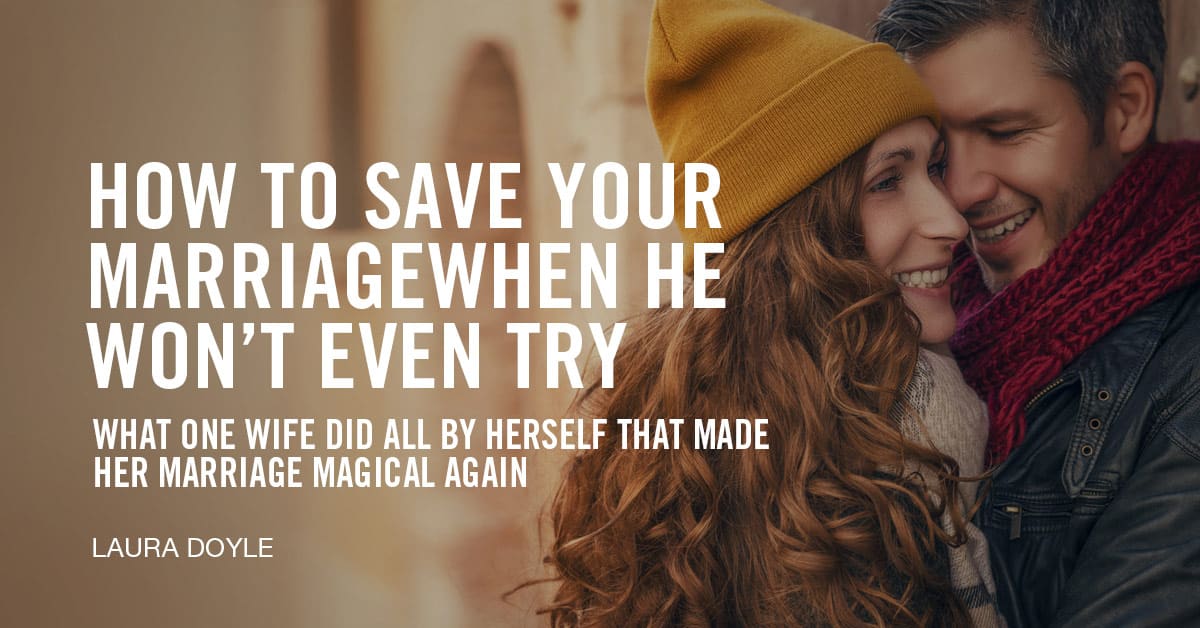 How to Save Your Marriage when He Won't Even Try
What One Wife Did All by Herself that Made Her Marriage Magical Again
One of the most painful things I often hear from a woman struggling in her marriage is hopelessness about her husband being unwilling to work on the relationship.
She'll tell me he won't go to counseling. He won't even read a single book.
She's already exhausted from all the work she's done on the relationship, and it's apparent he just doesn't care. At all.
And he's the one who has the anger problem or who doesn't make any effort to spend time with the family or who wants to separate.
The good news is that any wife can singlehandedly solve her marriage problems.
And don't worry–he'll change too.
That's what Olivia discovered. I'll let her tell you in her own words:
Olivia's Story
My husband is a smart, caring, insightful man–always the life of the party.
At home he would retreat though, proclaiming that he needed space and being cold and distant. He claimed that he loved me deeply and that this was just how he had always been.
We had been married for only six months, and I was so lonely and sad.
He would go days without speaking to me or even making eye contact.
I began to see gradual changes when I implemented Laura Doyle's Six Intimacy Skills™ independently, but the real change came when I began to receive coaching.
By using the specific techniques taught in the Surrendered Wife Empowered Woman (SWEW) program, I was able to express my love and gratitude for my husband, showing him the faith and trust I had in him.
It has been transformative for both of us.
We always loved each other, but now we have learned how to communicate it, seamlessly navigating challenges that previously could have split us apart.
Our marriage is peaceful and loving now, with him not only wanting to spend time together at home but even calling me just to chat during our workdays.
In my most recent coaching session, I told my coach that I wished I had a scan of my brain prior to coaching and another one afterward.
I honestly feel like I have gained a whole new way of interacting with not just my husband but also the world. I have learned to see the good in every situation and to think before reacting.
Although these ideas are not new, the specific SWEW techniques I learned allowed me to internalize and implement them.
All areas of my life have improved as a result of receiving coaching in the SWEW techniques.
Shortly after beginning coaching, I began to exhibit positivity at my job. My company created a new position just for me, saying they wanted to invest in an employee with such good instincts.
I had worked there for ten years.
I couldn't believe it!
I am eternally grateful.
I wish every newlywed could learn Laura Doyle's Six Intimacy Skills™.
They provide couples with a foundation to navigate life's challenges with grace and dignity, and to embrace life's joys with peace and gratitude.
There's No Such Thing as "Working on" a Relationship
One of the things I love about Olivia's story is that it illustrates the power she had to change her marriage without her husband having to do anything differently.
But look how he changed as she transformed herself!
He started wanting to spend more time with her, communicating his love, and dealing with challenges harmoniously. He even started calling her from work.
Asking her husband to change would have been a criticism, and nobody much enjoys that.
But expressing her gratitude and love, and choosing her faith over her fear made an impact.
Those choices brought out her best–and his too.
In other words, he responded to her better when she became her best self. She made him change by changing herself.
The takeaway of Olivia's story is something that most people don't know: There is no such thing as "working on" a relationship. There's only working on yourself and then him responding to you better.
Just like Dorothy in Oz, you've had the power all along.
With that in mind, what's one thing you would most like to focus on about yourself to make your relationship better?
Is it making yourself happy every day? Expressing your desires in a way that inspires?
Maybe it's expecting the best from your husband, or being more receptive.
Perhaps you'll focus on being more vulnerable or expressing more gratitude or something else this week.
I'd love to hear what one thing you will focus on about yourself this week to create the intimate, passionate, peaceful relationship you want. Post your intention in the blog comments below.
Thanks for being on this journey with me!
---
What to do next…
Sign up for our FREE introduction course:
Join us at our next webinar, where we'll go over key secrets that you can use to inspire your man, get respect and reconnect. View our next available sessions and sign up here.
Here's why more than 15,000 women have trusted us to help improve their relationships...
Led by renowned marriage coach Laura Doyle, a best-selling author, creator of The Six Intimacy Skills™ and - her greatest achievement - a playful, passionate relationship with her husband John.
A revolutionary and proven framework that has changed and empowered 15,000 women in over 30 countries worldwide.
Comprehensive learning resources to build skills your way and at your pace, including books, online modules, videos, workbooks, live coaching, community forums and more.
Supported by a great community of women like you, who have all known the heartbreak of a broken, loveless marriage and walked the road of transformation to a happy, passionate relationship once again.