Geert and Heidi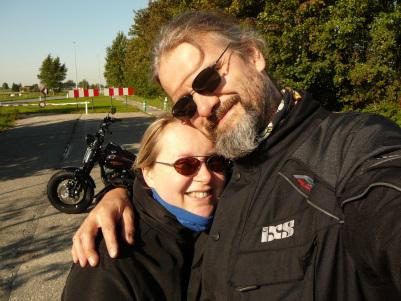 Our marriage was a typical one with ups and downs but the "downs" became bigger and bigger. It became so bad that we were starting to talk about separation. But then my wife saw a program on TV that really changed our lives. The program was about the Surrendered Wife, and after my wife watched it, we watched it together. She decided to order your book and try to change. At first
I was afraid because I thought that she would become too submissive (I don't find that very attractive), but little did I know. Five years later we have a fantastic relationship. I've always known that my wife was great but thanks to your books, she really found herself. I've changed as well (less impatient, less explosive) I've never felt so much like a man before. Today, during breakfast, we talked about you and how you changed our life completely and decided to thank you.
We wish you a long, happy and healthy life.

Audra
Just wanted to thank you for all you do!! Your lessons have saved my life 🙂 there is so much more peace in our lives!!

Natalie – Cheshire, England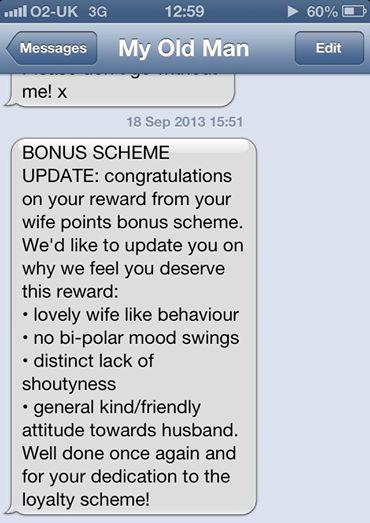 I'm sure you get plenty of long letters along the lines of 'you saved my marriage' so I'm just going to attach an image of a text exchange between my husband and I after I received flowers at work for the first time in years with a card attached that simply said wife points bonus allocation.
P.S. You saved my marriage. Thank you. x

Kathy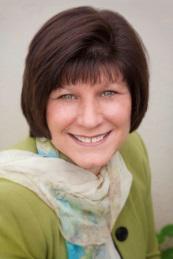 I saved my struggling marriage 13 years ago by implementing your six intimacy skills. My husband and I just celebrated our 22nd wedding anniversary and now my girlfriends, daughters and daughter in law are implementing the secret to having a passionate peaceful relationship too! It's so rewarding to pass along these skills to the women in my life, and to the many women who reach out to us all around the world. I am so grateful for your six skills and for the honor it is to also be one of your coaches. Thank you!

Clare
Hi there, I have to say I balked at the title at first, thinking it would be horrible like The Rules or something, but I was eating my internal words after reading the dust jacket. It's almost embarrassing to admit, but I was close to tears at least twice in the first three chapters because it was like looking in a mirror reflecting all my faults and how I wasn't the person I wanted to be. I'm now genuinely looking forward to my partner getting home tomorrow because instead of worrying he'll mess up my carefully ordered household I've spent a fortnight creating, I'll be enjoying his company -which I've missed so much more than I care about whether the floor is clean. Thanks, it's truly been an unexpected revelation.

Anonymous
Thanks so much! I bought your book when my now husband and I were partners in the early stages of our relationship and we were struggling with a power issue. I was very much in control in my first marriage. My now husband was having none of it and one of the reasons I fell in love with him was because he was his own person. Your book helped so much. Many friends have said 'How could you read a book like that where you surrender yourself?' But, it isn't like that at all. I'm a successful novelist. I'm also in a fabulous relationship where I recognize my husband as a person who is different to me. I learned a lot from your book. Thank you so much for that. I almost lost the best relationship of my life. You helped save that.

Rachel
Laura, you are so generous with your teaching, I keep telling more women about you. I just ordered 2 more books to give away yesterday!! Keep up the great work of reuniting women with their husbands in loving respect.

Danielle
I am 33 years old and live in sunny Johannesburg, South Africa. I have a beautiful 20 month old son and a wonderful husband. We have been together for nearly 8 years and married for 3. We have a very volatile marriage, and I related to your book like it was me in all those pages! My goodness what an eyeopener! After reading the book once my marriage changed, and my husband even commented on how good things were. I must be honest I 'lapsed' somewhat about 3 months ago and have started reading the book (aka my bible) once more. Only a chapter in and I can see the changes within myself and intern in my marriage. Thank you for your wonderful words of wisdom and help that you have given me and I am sure so many others. Don't get me wrong I would still like to murder my husband sometimes, but my marriage has been saved!
Thank you Thank you Thank you!

Jennifer
Thank you so much Laura. Looking back on my year, I remember when I first read your book. The Surrendered Wife, It gave me the courage to live the life I was wanting in spite of what other people said, and do what made me happy. Surrendering the finance of my home was really hard because I was raised to the contrary. Now I see how happy and acomplished my Husband feels when he provides for our family and manages our income. I even get more gifts. LOL

Excerpt from The Happy Wives Club, by Fawn Weaver
"The author of The Surrendered Wife, Laura Doyle, is a feminist who learned the hard way that feminism in the workplace may be a good thing, but bringing that attitude home is a recipe for disaster. Men and women are wired differently, and when two cars come to an intersection, one must yield or both will crash. Any friend I have who tells me about challenges she's having with her husband, I buy her this book. I've even given it as a wedding gift.

I can't completely explain the phenomenon, nor will I attempt to try, but something magical happens when women read The Surrendered Wife. For starters, the author prescribes that a woman not tell her husband she's reading the book. And yet somehow, each woman to whom I've given the book testifies that after she read it, she found her husband had changed for the better. The high value of giving up control and relying on our God-given gift of influence–something women have in abundance, especially in comparison to most of our male counterparts–is one of the most insightful lessons in the book. Striving to remain vulnerable and admitting when you're hurt is such a simple thing in concept, but Doyle does a great job in reminding us why so many strong women fail to do it. With the slight tweaks and adjustments the author suggests based on her own bumpy road to happily ever after, every girlfriend to whom I've given the book has said her marriage immediately turned the corner…for the better."

Anonymous
I wanted to sincerely thank you for this training program. Although I am still a work in progress, the principles have definitely increased peace and intimacy in my home and have helped me work towards being a better mate.

Lynda Love
Laura, The Empowered Wife is amazing. I enjoyed it very much and have been putting it into practice. It works!

Jill
Laura, I hope this email finds you well. I wanted to write and tell you thank you again for the program. My relationship is the best it has ever been now and I have been married 10 years! These past few months have truly been the best of my relationship. There has been so much peace and happiness in my home I can't believe it. When I think about how I used to be versus how I am now I am just so lucky to have found you guys when I did. Without the program I was headed for a disaster. The program has honestly saved me and my marriage and made us very happy and the envy of everyone we know. Of course I am still working every day to be a better spouse but I am truly happy and oh so grateful to have such a wonderful, thoughtful husband who I finally really learned strives every day to make me happy. I want you to know that things have really sunk in over the last few weeks and the results have truly been amazing. The program has changed my outlook on relationships forever and I feel I definitely have a blue print for relationship success that no one offers anywhere else.

Karla
The new book is great. I too can relate to the counseling and how it didn't work out well at all and the why is explained in so many great examples. I am not expecting that counseling be any part of what must occur for Pete and I to live together again. Even that feels freeing. 🙂 I read your blog post about an affair and WOW it just answered all the pieces I hadn't yet assimilated. I have so much hope and also peace most of the time. I can almost always believe that I really do have more "power" than the mistress and the part I saw today that they wouldn't have picked a married man if they had Skills. Yes!!!! I am so grateful that you called me to include me (which convinced me) to come to the Retreat. Learning to respect and pay attention to my paper… oh it's changed everything for me and that was only some 3 months ago. I am so very happy and grateful.

Esther NY
"Laura, I have been surrendering in my second marriage with amazing results! Never thought it could be so good however we got into a very bad patch when my husband wanted his mother to live with us. She came for a week and he won't make alternative arrangements for her. She could love someone else but he won't even talk about it. I didn't handle it well as it put such a strain on me and our relationship. My husband and I were so angry, he slept in the other bedroom. That exact day, you sent me an email about the passion shift. I know the techniques perfectly but was stuck. I bought the in line audio and listened. I took notes but was so scared how to get back on track. You gave me the confidence to get in touch with myself and my feminine ways. After sleeping in separate rooms, I woke up and realized that however bad things were or may end up, I knew that I needed a 'hug'. I just quietly went into the kitchen and asked for a hug. My husband was a bit confused but men are men and he wanted to be kind to me. Well it has been a few days now and it has been prefect again. He bought me an exercise bike I had wanted. He told me that he will hire a cleaner and he keeps telling me how 'delicious' I am. Well, his mother is still with us but he spoke to her this morning and I believe he will work it out. I, on the other hand will continue to be vulnerable and respectful as I see the miracle of the Passion Shift. Thank you.

Anita
It's liberates one from the shackles of control and into the mindset of freedom. Laura Doyle this is what your work has done for me.

Rachel Bevan Hoffman
Thank you for your The Empowered Wife book. Wow it has made a huge positive impact on my marriage. One big positive side effect apart from improving our marriage: my kids have almost completely stopped fighting with each other. Thanks again for your work!

Belinda A
Laura, I just wanted to share my story by way of a thank you.
I've been married 9 years and for the past few it's been miserable. Two years ago my husband stopped having sex with me and a year ago told me there was nothing he could or would do about his lack of desire.
I felt heartbroken and distraught. I found myself in a miserable situation and I didn't know how to get out of the cycle. I wrote notes in my diary asking for an answer. I prayed about it all the time knowing that marriage shouldn't be this miserable. We talked sometimes about it but the last conversation ended with him saying he couldn't live like this. Nor could I but I didn't know how to make things better.
We talked about counselling but we knew most counselling ends in divorce and we didn't want that. I didn't know where to go. I honestly thought God wasn't listening and was making me pay for making a poor choice of husband. But then God more than answered my prayers.
I read something about your book. I ordered it with nothing to lose. I read it cover to cover on day one. On day three I read it again and on day five I read it with a highlighter pen and note book. On day 8 my marriage was saved.
One month later and we are like a different couple. I respect him love and admire him. He is doing all he can to make me happy and I'm making myself happy trying to work on self care. Unbelievably we've even had sex which I can tell you is something of a miracle.
I truly thank God that he delivered this book to me. That my heart was open to your words of wisdom. We were at the point of living the rest of our lives in a loveless marriage. You have changed everything. Thank you.

Tiffany
Your newest book has been a marriage saver and I have not even finished it yet! Everyday I jot something else down or put something into effect or try it out as soon as I learn a new rule. It is just amazing. I cannot thank you enough for your skill and dedication to helping marriages! Thank you, thank you.

Lisa L.
Laura, I ordered the book, The Empowered Wife to help a friend. Her Christian counselor suggested she read it. I have been helping her along so I wanted to read it along with her. I have always loved reading books on relationships. I loved the book. I am buying one for my daughter and daughter in law.
Funny thing is, I have a wonderful strong marriage for 35 years, and I already do a lot of the things you mention in the book. I have been catching myself the last few days seeing if I can improve how I am saying things to be in "My" best interest 🙂
The book brought to light a memory of something that proves your beliefs. My husband very seldom ever offered or asked if I needed spending money for my wallet in the past. It wasn't that important because I could go to the ATM myself. Of course then I have to worry or feel guilty. He offered me money one day, and I said to him, " When you hand me money it makes me feel so taken care of and loved". Sine that moment years ago every two weeks or so my husband hands me money or leaves it on my dresser!!! 🙂
Thank you for championing marriages!!
Rachel
Laura, I just wanted to thank you for taking your courage and effort to write your books. I've read 3 of them & most recently Surrendered Wife & The Empowered Wife have really opened my eyes, saved my marriage, (although it's been a brutal look in the mirror), and revealed to me just how controlled I've been by fear. It's encouraged me to take an honest look at all aspects of my life, from marriage to pursuing the career I've been to afraid to & even to take a more open look at God and try to take Him out of the "box" I was raised to believe He's in. I've realized I always see him as a disapproving Father & operate from that fear. So it's been a very real transforming time in my life.
Thank you
Nadia
Laura, I loved this article! And your book is the best investment I've made in my life, its really helped me transform my marriage. Thank you Laura!
Mary D.
Laura, Ok, so I watched the webinar (before I read the book), and began practicing some of the techniques…..that was about 1-2 weeks ago, and I was very skeptical. As I stated before, my husband and I have lived apart throughout most of our marriage–I've seen him a total of 3 weeks in the past 2 years. In the past 6 months, he has initiated a conversation with me ONCE. Our marriage was really on the rocks. Since I began applying the lessons learned in your book & webinar, my husband now calls me DAILY…and sometimes 3 or 4 times a day! Thank you so much
Laura M.
This book is a life-changer (at least for me). Finished First We The Empowered Wife (same author) and wanted to read more. Glad I did!
"Surrendered" in this case doesn't mean "subjugated." It means something that would make sense to anyone who's been through a Twelve-Step program (and many who haven't). It means to surrender inappropriate control: in other words control over other people's stuff. Now this isn't a new concept by any means, but this author actually goes into practical ways to DO what she advises.
For anyone who's ever been abused control is big issue! Just being told, "don't be so controlling" is both frustrating and shaming – nor does it get good results! On the other hand, being given actual scripts and actions to replace the fear – and, hence, the control – is affirming.
Laura Doyle has been there and writes with compassion, humor and a straight forward style. I find myself alternately yelling at the book and laughing myself silly at it. In all that the "Ah hah!" moments are all but constant. Doyle recognizes and empathizes with the fear that underlies all control (both female and male). She gets me laughing at myself, which, of course, lowers barriers and allows seemingly impossible changes to happen quickly… really quickly!
The other thing that's so healing is that she illustrates situation after situation in which control is rearing its ugly head in ways that most of us with control issues don't even see… until we "hear" our words coming out of another woman's mouth or see the reaction in someone else's husband that we've seen in our own. This has not only helped me to see incredibly subtle ways that I'm still in another person's "stuff" but has also helped me to see many subtle ways in which my husband is still [trying] to control me; ways that he's not even recognizing in himself. Rather than make me angry, it's given me the tools and ability to shrug it off and do something affirming for myself in those situations – without further triggering *his* fear/control response.
All in all, I'd have to say this book is a literal answer to prayer for me.
Renee
Thank you for being the beautiful person you are. Thank you for exploring, studying and then inspiring and coaching others. I am a true example that the work you teach is real and magical at the same time. I now know and understand that having a happy life is fully in my control. Peace comes from within. I am proud that I learned and am still learning through my challenges and I am so happy to have a caring, loving, helpful husband. Best wishes for your continued success.

Tammy
I saw Laura Doyle on dateline (or some show like that) about 15 years ago. I went online to take her test and failed miserably! I bought the book the next day and the rest is history. I love my man more and more every day. I have reread it a few times over the years and bought more books to give them to friends and family. Scott and I have been married for almost 27 years! I am incredibly grateful for The Surrendered Wife!
Michelle
I agreed to try being generous with my gratitude for one week. Every day, I found three things to thank Zack for. Halfway through the week I discovered another fringe benefit to my behavior when Zack pleasantly surprised me by saying, 'You've really taught me that we need to appreciate each other more. I want to thank you for making dinner tonight.' That was something I always wanted to hear from him; that he appreciated what I did. I just loved it! But maybe even more importantly, expressing my gratitude every day also made me appreciate him more. He really does a lot for me that I take for granted.

Jineen
I was finally ready to let go of control and really allow myself to be vulnerable…. I discovered The Surrendered Wife in a bookstore about ten years ago. Seemed so random, but little did I know how drastically Laura's Six Intimacy Skills would change my life. I fell in love with Laura's work right away and regularly referred to her material over and over through the years. I believed in Laura's book and principals so much that I decided to join her Intimacy Skills Coach Training. The training was powerful! Not only did I learn more, I really saw transformation in my relationship with my husband! My husband and I have been married fifteen years this past June and are more in love than ever!

Mari-Jean
"Respect" says Laura "is what men want most of all". I felt so betrayed by my husband not doing the things I thought he should do. What exactly was I supposed to respect when he couldn't even get his socks into the laundry basket? I'd committed to the program; I was going to do the exercises as assigned. I felt like the biggest liar; surely he would see through me? I simply mouthed some of Laura's suggestions: "thank-you for going to work every day" "thank you for coming home every night" "thank you for breathing on your own" (OK, I made that one up, but that's how ridiculous this exercise felt to me) The words felt like sawdust in my mouth. Apparently those same words were like a healing balm for his heart. I weep now to think how tolerant he was of me, when I so strongly felt the opposite was true.
The change was immediate.

Anonymous
Funny thing, I was challenged by the name of your book when I first saw it….I couldn't help reading it out of curiosity…it totally changed my life and my perspective. After many years of failed attempts at mainstream counseling etc. – this made sense and it stuck. I treasure my book to this day and would buy one for every woman I know if I could. My hubby still sends me little love notes "just because" ….I am so lucky. A very heartfelt "thank you" for having the courage to think outside the box and share it with the rest of us.

Melissa
Before reading this book, it was a very cold war in my home. I spent a lot of time at work and with my children, mostly leaving my husband as an outsider, which forced us even farther apart. I tried every tool, book, trick, and even manipulation to try to get my husband to reengage with me and our five children. But when I read The Surrendered Wife, I began the process of being true to myself and focus on what it was to be feminine. I focused on self-care very heavily, something that had been missing for years. At first, there was no change in my relationship with my husband, but I did notice a big change in myself. As I worked through and applied the principals of The Intimacy Skills, eventually our marriage began to change. However, it wasn't until I truly became vulnerable to my husband that finally our relationship began to blossom into a marriage again. Now, after 30 years of marriage, we are happier and more connected than ever!

Courtney
I can't say thank you enough for helping me to save my marriage! I first read your book The Surrendered Wife seven years ago, right before I got married. My soon-to-be mother-in-law gave it to me, and though I read it, I didn't try too hard to apply it to my marriage.
Fast forward six years into my marriage and I was ready to check out. I grew to feel my husband was more like a roommate; I was resentful of "having to do everything" in our relationship and felt like my husband was my 3rd child. When my mother-in-law came to visit us, I took her up on her offer to give me private weekly coaching. It made sense as she is your senior coach, and at this point I figured I'd try anything, even taking advice from my mother-in-law!
I'm proud to say that the coaching made an immediate difference. I was so excited to keep up the positive work that I enrolled in your Intimacy and Peace program. The video modules were great – except I skipped the one on financial intimacy. Well lo and behold, a few months later after a big fight about money, I surrendered our finances and never looked back!
Now, I am so thrilled to be one of your coach trainees and to make a difference for other women and their marriages. I do not want to begin to imagine what my marriage would be like if it wasn't for all of the support and knowledge you and Kathy have offered to me. I owe the success of my marriage to you!!

Madonna
I spoke to my coach today and just wanted to say thankyou again for recommending her. I think she is absolutely wonderful and I love talking with her. It is helping so much to have a coach and I'm starting to see a real change in my marriage. Doing the program without a coach would not have worked for me, so thanks for pointing me in the right direction. I too feel like I have a new husband, even though I am not 100% confident with the intimacy skills. Saying "I hear you" is a bit clumsy for me but in the past when my husband said something I didn't like or didn't agree with I would just say nothing. So now
saying 'I hear you' feels very strange, but I think he likes it. He even said 'I hear you' to me the other day. I face each day now with a growing confidence and instead of wanting my husband to be away from me, I want him near so I can keep practicing. It's such fun!

Bukola
Hi Laura, I would like to say a big thank you to the almighty and you for all of your advice and teaching on how to be a Surrendered Wife. I stumbled on your book on the internet when desperately looking for help on how to save my marriage. I decided to buy your book and since then, I've begun practicing surrendering. I was amazed on the drastic great turn around effect it had on my marriage. Things are now different. I am happy and with my peace now, though my man still get on my nerve sometimes.

Rachel
"I've already bought your first book and have put things into practice. One of the main areas of change has been the finances!! My husband has finally started to put a plan together to move us within the next 4 years! Keep up the good work – you've saved another marriage" – thank you xxx Rachel

Update – husband is starting a new job in a week's time earning loads more money!!! He has really stepped up since controlling the finances and me not nit picking. I'm so proud of him!

Michelle, Dorr, Mi
"When I first started using the principles I was shocked at the change in response from my husband. The changes in response moved me to learn more. The difference in one month was incredible, we went from separated almost divorced to living together enjoying each other."

Moonray
Every time I think that things have gotten as good as they're going to get, something happens to show me that they can get even better, as long as I keep practicing the skills I've learned here. Thanks again.

Madonna
I Love, love, love Laura's program too. My marriage and my happiness have turned around. I am amazed and so grateful.

Anonymous
I thought you might like to hear this. I suggested the "Surrendered Wife" book (as I have to many women over the past few years since you recommended it to me) to my sister-in-law. They've been married around 20 years or so and we got talking about some of the issues the book addresses. I really sensed she needed to read what was in the book. She tracked down the book and is reading it. I got this wonderful text from her last night…
"Thank you so much for suggesting the book! It is already changing our marriage for the better!!! Tonight Tommy asked me where I came from and what did I do with his wife lol. He said it in a jokingly, complimentary way. I am only on chapter seven! I had no idea how much I was crushing him. Good stuff!!"
That just makes me happy!

Jannah
Hi Laura hope you are good, I've been reading your book the Surrendered Wife & I totally swear by it every women should read this before and while being married, since I've been reading it I've been implementing what I've read and it has totally changed me as a person, I'm so much happier and my relationship marriage everything is so much better thank you so much for writing the book, may you succeed.

Ellen K
Hey Laura – I used your 'whatever you think' principle yesterday when he was talking to me about whether he should spend £690 on getting the air conditioning in the car fixed or not!
I must have said it around 5 times and just said whatever you think with regards to getting it done and also how we would pay for it. He decided in the end not to so my fears he would zero out the account were not real! Your new book is excellent thanks so much.

E.J.
I have been married 30 years and have been a surrendered wife for 1-1/2 years. I have participated in the Intimacy and Peace program, the Surrendered Wife/Empowered Woman program, and had private coaching since last Sept. Using all the resources that Laura offers has totally transformed our marriage. For about 25 years of our marriage there was no physical relationship, no intimate conversation, no compliments, no time spent doing fun things together. We were just roommates that ran a business together. Then I found Laura!!!! I started using the skills and things started changing immediately. Now we are like newlyweds. Now we are intimate and do things together. My husband compliments me and tells me how much he loves me everyday. I have the marriage I always dreamed of. It has actually changed every aspect of my life, including taking care of myself now. I could go on and on. I can't thank Laura enough for what she has taught me along with my coach, Sheri.

Theresa
I just tried to help myself out of a 25 year marriage. Thank you Laura for the tools I so needed, my new relationship is totally different than my failed marriage. We are both so happy and in love!

Shana
Laura, Thank you for your friendship! Today I went to Barnes and Noble and bought your book for a second time! Things had not been going so good lately with my husband of almost 31 years. I guess you know why. Yep, I kept wanting to talk about our relationship- Some of the most precious years we had were when I was surrendering. I am going to do what I should have been doing all along……respecting him, unconditionally! Thank you for your book!

Rachel
Dear Laura, I followed ur advice in 'Surrendered Wife 'to keep quiet and watch/observe my husband making his own decisions. I also verbally praise and share with him that I trust and respect his decisions. He has become more relaxed; shares and talks with me more now. I am so grateful u have experimented with and shared ur reports. Practising your advice has given my husband and I greater levels of peace and intimacy in our daily lives.

Zenaya
Laura,
Your books have truly been a blessing to my life! When I was single, I read "The Surrendered Single" and I also shared it with my girlfriends. We all are now married with children and we've read "The Surrendered Wife" and also "The Empowered Wife." I've been where all of the other ladies have been at some point in my marriage.
Ladies, I truly can say that although you feel your situations are helpless, you absolutely have way more power in YOUR marriage than you think you do. I used to complain that my husband was a mess, but guess what…he was MY mess. I chose him.
By focusing on my own happiness and the happiness of my children, I became the woman God created me to be. I started my own business, I attracted friendships with other women who were like-minded and uplifting and, most importantly, I grew. My entire frame of mind changed for the better. My attitude was simple, "I matter. I deserve love. I am loveable. I will be good to myself." When I changed, my children changed. My husband changed. My LIFE changed!
I stopped having the desire to complain about how disrespectful my husband was and I focused on being thankful for all that I had and all that was happening in my life. My marriage was not transformed overnight but it didn't take long.
Ladies, you know that once we start working out, fixing our hair different, dressing nice, wearing a smile on our face and letting little things slide we become noticeable to everyone around us.
The first thought in your man's head will be, "What is going on with her?!" The principles in Laura's book are like Weight Watchers. They work when you work the program. Laura wouldn't say this, but I'm going to…don't question the steps until you try them. Asking all of these "what if" scenarios is a waste of time. I've dealt with everything in my marriage and it still hasn't ended. Why? Because I took BACK my power. YOU are POWERFUL.
If you don't like the atmosphere in your home and in your marriage, then change it! Stop looking for your man to make the first move because he won't. Stop questioning the process. Take back your power. If you need encouragement and you're afraid the steps won't work, then I suggest you get in a quiet place and encourage yourself, fake it until you make it and most importantly KEEP IT MOVING.
If things don't improve right away and your man is still acting crazy and unresponsive SO WHAT?! Like my daddy always said, "One monkey won't stop a show." Your man will come around.
To be honest, he'll probably observe you at first to see if your new personality is a permanent change or just some type of temporary mood. The changes may make him nervous. Keep at it!
You're a WOMAN. You can do ANYTHING. And remember, you're not going through your situation in your marriage just for the sake of going through it. You're going through it so that one day, you can help another woman save her marriage one day. You don't know how many other women are watching how you conduct yourself in your marriage because they are dealing with issues in their marriage and they need guidance. "Each one teach one."
If you want your marriage and you want to see a permanent change in your man, then try the skills. If you're afraid to try the skills, then ask yourself why you are afraid and if needed, attempt them at another time when you are ready. But please don't discredit the principles if you haven't even given them a chance.
J.A.
Laura,
In May 2016 I was lucky enough to have found you on the web when I was searching for coaches and relationships. My marriage was about to end and I was desperate and there you were. I bought your book, and devoured every word and then signed up for SWEW, taking part in the 6 months with you and all the wonderful women.
First, my marriage did not end, and I want to thank you and all your amazing knowledge and tools that you passed on to us for that. I did the work, and continue, and when things are not going to well, I immediately know what is up, and it is me not practicing gratitude and being all over his page. So I am now able to navigate the waters, and am enjoying my marriage.
Thank you so much. I know what a difference your work made in my life and then multiplied my all the women you work with, you have made a big impact on the world.
I'm glad you had the courage to follow your heart, you inspire me to do the same.
Love, J.A.
M.S.
Laura,
I only remember strife and tension and upset and fights for most of our Christmases together. This year (and I knew this would happen) we had a peaceful, wonderful, amazing, thoughtful, happy Christmas. I found Laura Doyle's book The Empowered Wife" at my local library just a few weeks ago. After 18 years of marriage and 17 pf those years in counseling, I was SO READY to find a real solution to our constant "difficult" relationship. It has been just over 2 weeks and I am a convert. I have NO TROUBLE whatsoever implementing the 6 intimacy skills, as they make a lot of sense, have instant pay offs and are plain and simple. For all those years in counseling I had to do all kinds of exercises that were supposed to make me a better person. The opposite happened. I became an increasingly horrible woman instead. Feeling frustrated and not getting what I was supposed to get from the dialoging, self-loving, stopping my anger, and the list goes on. I just could not master any of it. It felt so pointless. And my husband never became a better husband either.
Your book has turned me into the person I was meant to be all along, but being a child of a divorce, I had NO IDEA what it took to be a good wife. Turns out it is SUPER SIMPLE. I am so very grateful for you, Laura. I almost want to say you are my hero, but you are not. You are MY BEST FRIEND!!!!
THANK you with my eyes full of tears….
I have also been on the same mission as you for almost 2 decades: to end world divorce, albeit in my own small little way. Every time yet another friend filed for divorce I knew it was a mistake. I knew there's got to be an answer out there. I knew I should not divorce my own husband (though for a year we threatened each other with that). You say almost exactly what I was telling myself: he IS a good man, he doesn't drink or do drugs or have affairs, and there is a good guy in there for sure. Just like there is a good woman inside of me. And she has emerged and I have demonstrated already several times that I don't need to make a scene and berate my lover, and you have showed me how. Why didn't my previous well-meaning counselors tell me any of this???
EVERYTHING is good now. Never mind the few times that I felt anger. I applied one of the skills and didn't need to talk it over for hours with him. It works, I have regained my dignity, he is pulling his weight more than ever before. He is a great dad and husband. THANK YOU THANK YOU THANK YOU!!!!!!
P.S. I am still hoping for more one-on-one time (including sex), but have faith that with consistently implementing the skills, I will get that too! M.S.
Thanks!