How to Attract Your Husband in Bed at Night
5 Secrets to Seduce Your Husband Physically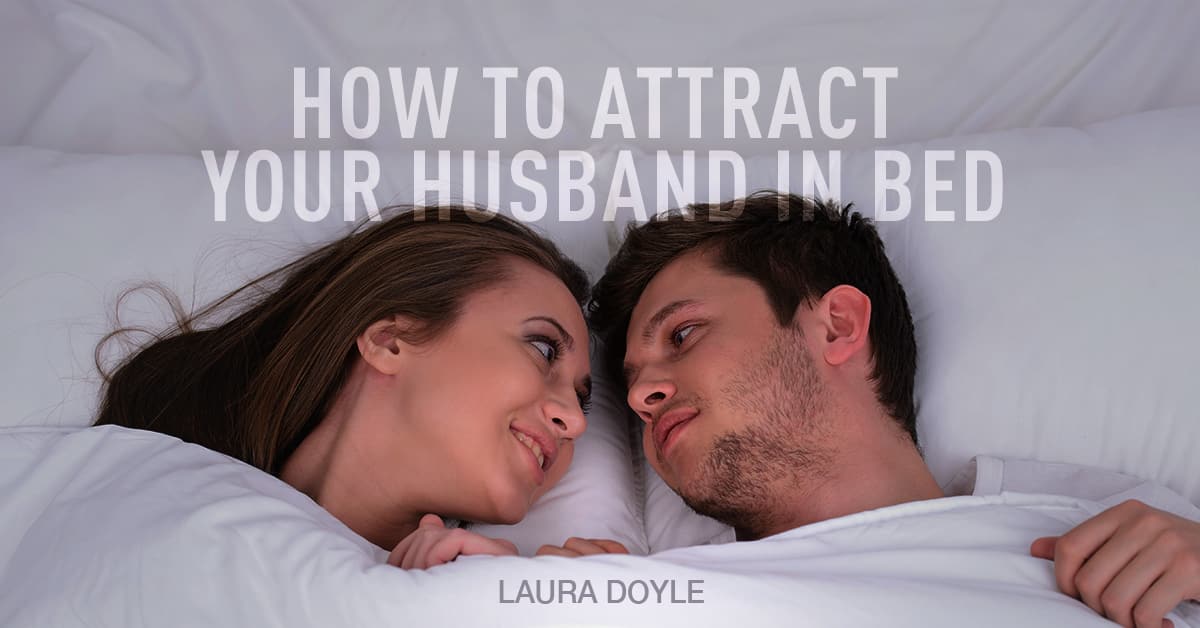 If the sizzle is missing from your bedroom, you may think (like I did) that it's because of circumstances beyond your control.
The good news is that the real reason the passion is running low is probably something well within your power to change, which means you have the power to enjoy feeling sexy and desirable again.
The key is recognizing what stands between you and the satisfying physical connection we all want.
The sooner you uncover the real reason your love life is disappointing, the sooner you can skyrocket the passion again.
Here are five secrets to attract your husband in bed so you can get the fireworks back.
1. Discover the Best Aphrodisiac for Men
We women are so afraid we just aren't pretty enough to turn him on anymore, but I promise you it's unlikely that this is the reason sex has gone missing in your relationship.
Even if he says it's because you've put on weight or that he's not physically attracted to you anymore, that's just a distraction from the real problem. Don't get sidetracked worrying about that.
The fact is, you still have a woman's form, so you're all good there.
When a husband shows a lack of attraction to his wife, it's either because he doesn't feel respected or because he feels mothered by his wife. It's often both.
What happens in the rest of the relationship has everything to do with what happens in the bedroom.
Respect is the best aphrodisiac for men.
Click To Tweet
If he's feeling respected as a man, and not demeaned or like a little boy, it's amazing how quickly he becomes attracted to his wife again.
2. Stop Being the Aggressor
It makes sense that if you want to have physical intimacy, you should just come out and say so, or get things going by doing the thing you know men like.
That's how you get things done at work, after all—just be direct and speak up assertively, right?

But that's not so effective when it comes to lovemaking.
Saying things like, "We should have sex," or even, "Do you want to go mess around?" just isn't as effective as using your natural magnetism.
In fact, that kind of instigating is a turn-off, not a turn-on.
If you think about it, that's not how you got together initially. Chances are he was the aggressor when it came to sex in the early days. All you had to do back then was be receptive.
Turns out, that's still a good approach—just being receptive rather than aggressive.
I know the fear is that since he never initiates it now, if you don't say or do something it will never happen.
But my experience is that when you stop obsessing about how it's not happening and go back to flirting and making yourself feel happy, we women are like magnets to steel.
3. Receive, Receive, Receive
We tend to think that men are ready to have sex any time, so he must be the problem. Actually, that's us women you're thinking of. Women are perpetually ready for sex physically.
Of course, it may take a little doing to get us in the mood, and sometimes it may not be very convenient, but women can always perform sexually. That's never an issue because that's how we're made.
But performance can be an issue for men. And any time they feel pressured to perform but can't, that can be embarrassing.
Most humans will go a long way to avoid feeling embarrassed or disappointing someone they love.
He may be avoiding the whole topic to protect himself from feeling embarrassed or like he's disappointed you.
Consider seizing your opportunities when they arise, instead of trying to get them to arise when you want them to. Pun intended.
It may sound funny, but if you want a hotter sex life, say yes when he's ready to rock. You may not start out in the mood, but that doesn't mean you won't get there.
4. Get Vulnerable
If you've chalked the lack of action up to stress, work, the kids or his health condition—well, all of that can have a chilling effect on physical intimacy for a time, sure.
But if the lull has lasted months or years, there's likely something else amiss.
A great sex life is all that it's cracked up to be, but getting back there can feel vulnerable. And if you've been thinking it's up to him to solve this and all you can do is wait, consider the possibility that the ball is in your court.
It may feel incredibly risky, uncomfortable and awkward to let him know that you miss being touched that way, but that could also be the key to busting out of the sad status quo.
There's nothing more attractive or compelling to a man than to see his wife's vulnerability.
5. Develop the Skills to Address the Real Problem
One of the astonishing things I've been privileged to witness as a relationship coach is that physical issues with male sexual performance are often temporary and circumstantial, rather than permanent and hopeless.
Often when a woman starts practicing The Connection Framework, the sexual chemistry is restored, and suddenly he's good as new again.
Of course, we live in the age of modern medicines that can also address male sexual performance, which is another possibility.
But what I'm talking about is that husbands with problems that seemed like stubborn physical challenges in bed have regained their function when the wife focused on revitalizing other aspects of the relationship.
In other words, you have the power to make your sex life vibrant again, and it will happen as a byproduct of making your marriage magical again by practicing the Intimacy Skills.
And when you do, you won't wonder how to attract your husband in bed because you'll be busy enjoying the fireworks.