How to Fix My Broken Marriage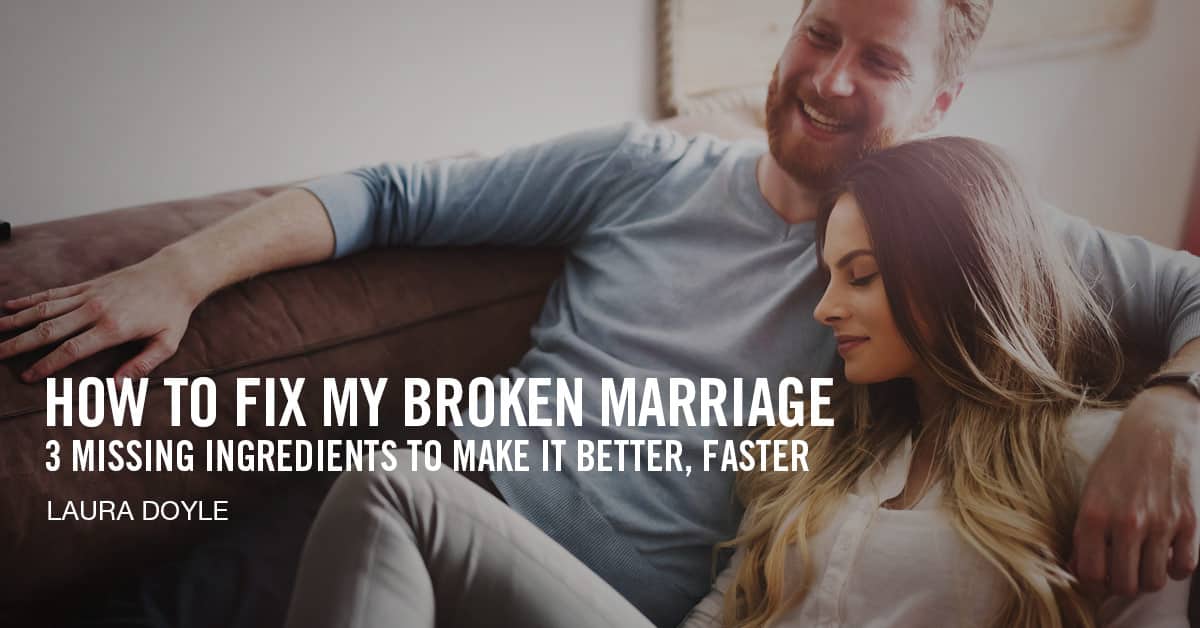 How to Fix My Broken Marriage
3 Missing Ingredients to Make it Better, Faster
How do you fix your marriage when it's been so hard for so long that you just don't feel like trying anymore?
If you were one of the blog readers who asked that question last week, you reminded me of how exhausting that is. It's awful.
When you're already drained, the idea that there's one more thing you need to do to fix the relationship makes you want to go back to bed! Especially when you know that most of the problems are with your partner's attitude and actions (or lack thereof).
You've been working hard to heal your relationship and being honest about what you need from him, but he never changes and it's very lonely.
That's how I felt over 20 years ago, but I haven't felt that way in a long time.
1. Getting the Right Information
I spent a lot of time implementing well-meaning but ineffective advice to work on my marriage.
Some of what I read from so-called "experts" seemed so much like common sense that I never even questioned it, but it still never worked for me.
When I followed suggestions like "Let your husband know when you have an expectation that's not being met," I ended up with wall-to-wall hostility. Same with, "Tell your husband that you need more affection." Ugh! I got some forced, awkward hugs, but that was about it.
Now that I've had both a terrible marriage and a dreamy one with the same man, I can spot the counterfeit "wisdom" right away. It makes me break out in hives.
Before anything could improve in my marriage, I needed the right information, just like I'd need the right directions to get to your house. My common sense just wouldn't be enough if I didn't have your address and a reliable GPS.
If nothing's been working for you, which is how I felt in the bad old days, what could it hurt to experiment with some new approaches?
Here's a good (and free) place to start: An Introductory Course on the Intimacy Skills.
2. Making the Changes You Can Make
You might be wondering why this blog is only for women when there are plenty of ways your man needs to improve.
I mean, it doesn't seem fair that all these suggestions fall on your shoulders when your shoulders are already bowed under the weight your relationship problems.
Wouldn't it be nice if your husband read a blog and implemented the suggestions?
I thought so too.
I used to make lists of what my husband should do differently. I put them on the refrigerator. Or I'd sit him down on the couch and read my list to him.
That never worked either. At all.
What I learned the hard, slow way is that I can't make my husband read a book or a blog or an email, even. I can't make him do what it says.
Therefore, I was very reluctantly forced to look only at how I could behave differently. I was shocked that, when I changed how I approached him, he responded to me so much better.
Drat! I thought it was all him.
Being accountable for myself by making some simple changes–changes that made me feel better about myself anyway–turned out to be magical for my marriage.
I started small, just trying out experiments that I knew I could throw out the window if I wanted to.
But when I got the very responses I had always wanted, I knew I was on the right track.
Was that because my husband had improved? He certainly started taking more initiative, being more affectionate and conversational, and constantly looking for ways he could make my life better.
He just buzzed by to see if I needed a cup of tea or a blanket. That wasn't happening before my experiments.
It all started with me doing what was within my control: changing myself. This next step had everything to do with how I was able to do that.
3. Joining a Gang
If you're already practicing the 6 Intimacy SkillsTM but struggle to stay motivated or don't see improvement, then this is the key to breaking the whole case open.
Consider joining a gang, a group, a circle, a club or a coffee klatch of women who have what you want in their marriages or are invested in getting there.
That was one of the first things I did early in my journey from the brink of divorce to the playful, passionate marriage I have now.
My marriage still suffers when I don't connect with likeminded women about practicing the 6 Intimacy Skills. My gang of coaches remains indispensable for making my marriage shiny and joyful.
As much as anybody else, I need the encouragement and connection I feel with women who are mere mortals like me. I enjoy a sense of belonging when I hear them share authentically about their challenges. I grow from hearing them celebrate their insights and tender moments. I benefit from the repetition of the principles that I want to live by.
The most powerful such group I know of are the Laura Doyle certified coaches, who started out in Relationship Coach Training.
Each small class is full of women committed to restoring the intimacy in their marriages, and they lift each other up with courage and vulnerability like I've never seen anywhere else.
Often women enroll in Relationship Coach Training to save their own marriages or make them more playful and passionate–and it works.
Which makes sense because we tend to be like the people we surround ourselves with. We all need someone to have our back, to provide empathy and acknowledge us for what we're doing well.
If practicing the 6 Intimacy Skills feels hard, discouraging or pointless, my wish for you is to have more support.
After all, happy marriages matter!
You're not the only one who's struggling or has struggled, and if those of us who put a high priority on our relationships stick together we can encourage and empower each other.
It's the only way I know that fixed my broken marriage.
What's one small change you can make today toward fixing your marriage? I'd love to hear in the comments section below.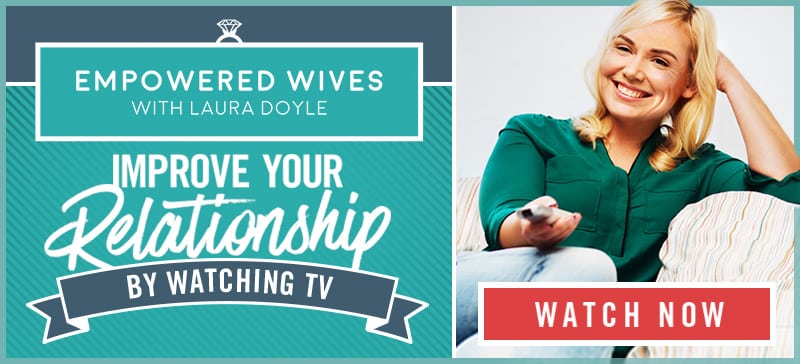 ---
What to do next…
FREE MASTERCLASS
How to Get Respect, Reconnect and Rev Up Your Lovelife
A proven framework for women who want to fix their relationships and become happy wives
What You'll Learn:
The #1 way to fix your relationship that NOBODY talks about.
Why doing the same things that make you successful at work is the WORST thing you can do in your relationship
How to make your relationship playful and passionate without having to do more endless work--in fact you'll be doing much, much less