Will the Intimacy Skills™ Work for You?
7 Ways Women Say They Knew They'd Turned a Corner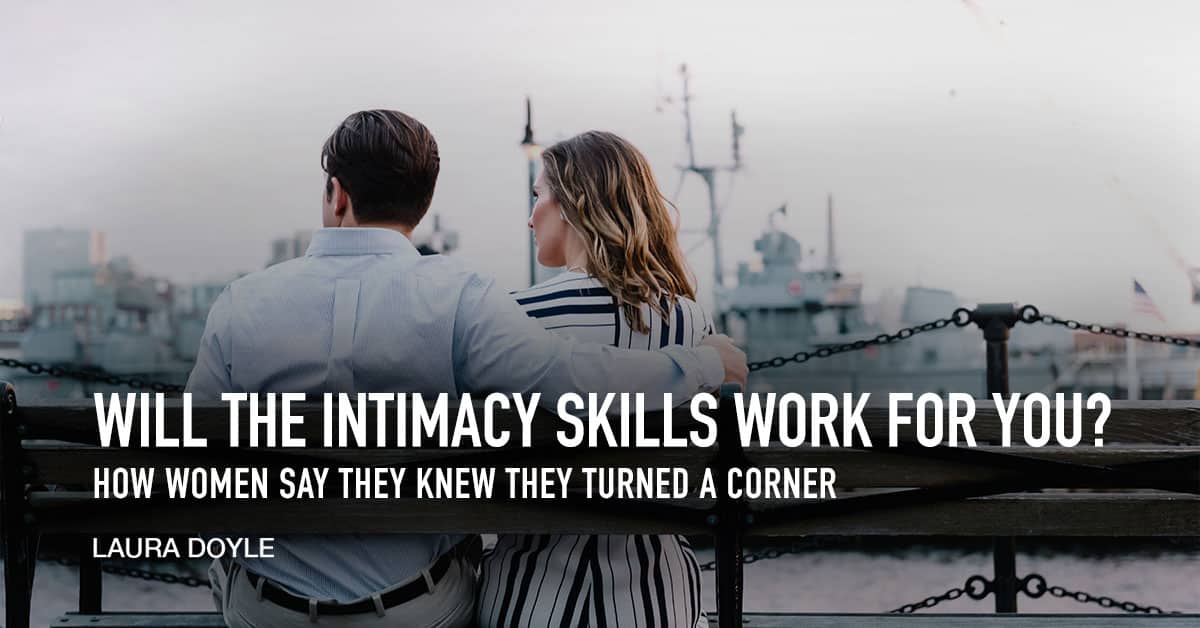 If your relationship feels unbearably hard and hopeless right now, that tells me you're probably very hurt, and you've been getting hurt for a long time now.
You just want that to stop–the way you'd want to stop hitting your head with a hammer.
When you're feeling that hurt, it's hard to see possibilities. The only rational thing to do is raise the drawbridge and put on your armor for battle.
If all your recent interactions with your significant other have been antagonistic, then it seems logical to expect the bloodshed to continue.
But past performance is no indication of future results in relationships, especially if you get the element of surprise on your side.
Here's what happened when real women like you surprised their husbands:
When I say they surprised their husbands, I mean that women just like you, who felt just as hurt and hopeless, practiced the Six Intimacy Skills™.
I asked these women to report how they knew the Intimacy Skills were working for them. Here's what they told me, in their own words:
1. They Got More Affection
I knew it was working when he offered to buy me a present and I didn't refuse, and he held my hand the rest of the trip.
— Marta
My husband will now just come and sit by me on the sofa and hold my hand.
— Charlotte
I knew it was working when, instead of facing away from me, he began to roll over in bed, wrap his arm around me and pull me tightly to him–like a child does to a teddy bear. I had become his comfort, his soft place to land at the end of a hard day.
— Kate
2. They Got to Relax More
My husband, kids and I are on vacation at the beach. Right now, at this very moment, he's playing whiffle ball with the teen boys and I'm sitting on my beach chair reading a book and drinking wine. He just took a break from whiffle ball, came over to me, leaned in and kissed me and told me he loved me and asked how I was. Before the Intimacy Skills, I know I'd be here in my chair angry with him about something, but the anger, resentment and loneliness are gone. We've been married 18 years now, and we're truly falling in love with each other all over again.
— Meghan
3. They Got More Compliments
I knew the Intimacy Skills were working when my husband, who has verbally complimented me about five times since we've been married in spite of many requests from me to do so, told me last weekend without any prompting that I looked really pretty when we were at his work function. That's a huge win. These Skills have changed my marriage more in several months than in all my many years of nagging and complaining.
–Benita
My husband and I have been married 7 years, and due to his work he spends a lot of time overseas. The Skills have created an unbreakable bond between us, where each reunion is like a honeymoon. He tells me regularly I am his best friend and confidant–the best wife in the world. He goes out of his way to keep me close, no matter where he is. I'm truly blessed and grateful for learning the Skills before we married.
— Willow
4. They Got Better Husbands
I knew the Intimacy Skills were working when my husband started giving up things I had nagged about constantly.
First he gave up hard liquor, which was causing him to make bad choices. One day he just said, "I'm thinking of giving up Fireball, etc. and just drinking beer. " My response was, "Whatever you think, babe."
Then next, he had started smoking weed at 50 years old as part of his midlife crisis and announced one day, "I'm thinking of giving it up." Again, "Whatever you think, babe."
Lastly, he said, "I think I'm gonna start hanging out with married men my own age rather than partying with 21-year-old kids to make myself feel young. Again, same response from me.
Today, I looked him in the eyes and said, "I couldn't be happier than I am right now. The amount of respect I have for you right now is not even measurable in words. You are everything I have dreamed of in a husband."
Because I have stayed on my own paper and followed the Skills, he has made decisions to change things on his own!
— Darla
5. They Got What They'd Always Wanted
I knew the Skills were working when I said to my husband, "I want to have a nice vacation this year," and he booked a great vacation for the kids and us at the beach. This was after almost 3 years being in a crisis and him wanting to get out of the house. The Skills helped me become aware of the things I was doing wrong!!!
— Therese
I knew the Skills were working when I made peace with expressing desires I didn't think I could have. I expressed many times how much having a cat would make me happy, even though we had agreed that we didn't feel right getting one because we couldn't make a long-term commitment to being in this country.
Did that stop him? Nope. On my birthday I opened a printed piece of paper with a picture of a cat on it and a note telling me he had arranged for us to look after someone else's cat for three weeks! I was so moved by his creative way of fulfilling my desire. Now the cat comes to stay with us whenever her owners go on holiday.
— Bethany
I know the Skills are working because when I first met my fiancé I told him I wanted to be a stay-at-home mom, I wanted a farm, and I wanted a house with a nice kitchen. He has made each one come true by his own choice.
— Lilah
6. They Felt Empowered
I knew it was working (and this is a month into it) when my boyfriend thanked me for not critiquing him and leaving him (in his words) nasty voicemails and emails about us not spending enough time together when he's had his teenage sons with him most of the summer, has moved and is working especially hard in his business!
We've been having the nicest, most peaceful times together lately. The big change is inside of me. Changing my attitude, my perceptions and seeing him with gratitude have made me fall in love again.
He is 65 and I am 63, so you're never too old. Wish I'd learned these things 40 years ago!
— Jeannie
7. They Felt Hopeful
Shortly after starting SWEW, I went to dinner with my husband, and rather than ask him questions and try to control the conversation, I was quiet. I was nervous that my husband would interpret it as an unhappy quiet rather than a Goddess-of-Fun-and-Light quiet, so I just sat there smiling at him and people watching. He turned to me and said, "Did you ever think we would be this happy?"
Of course, the first time he called instead of texting and the first time he looked up and smiled when I came home were milestones too!
— Marina
I knew the Intimacy Skills were working each time I had an "aha!" moment–either realizing some behavior I had used in the past had caused damage or realizing I had a new Skill that would work better in certain circumstances. The moments of clarity and realization have been filled with emotions of sadness and regret but also hope and empowerment.
— Candace
Will the Intimacy Skills work for you too? You can experiment and see.
I'd love to hear below how you know they're working for you.