Top 10 Ways to Control Your Husband
I Tried All of These Embarrassing Ways and None of Them Work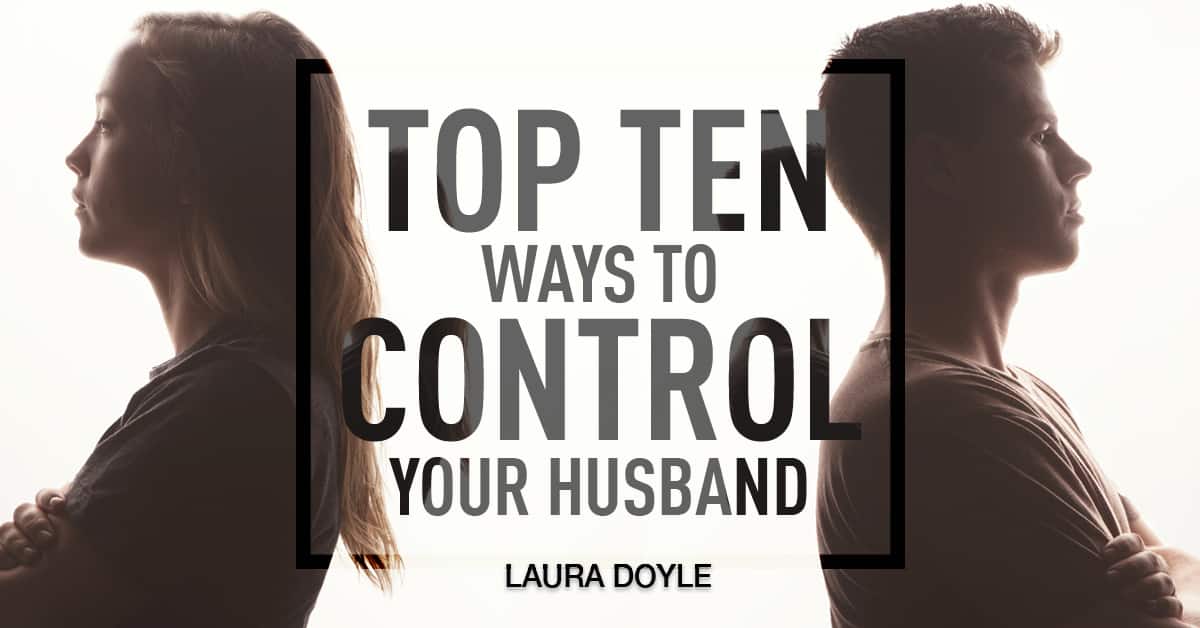 For years I truly believed if I could just get my husband to be tidier, more romantic, and more considerate everything would be fine in our marriage. I told him as much, and while that didn't improve things at all, it did create wall-to-wall hostility and tension in our home.
For a long time I didn't even realize I was controlling. I thought I was just being helpful, acknowledging how I felt, and being honest. Little did I know I was shooting holes in the bucket of our intimacy.
It wasn't until I learned to recognize my controlling behavior and make a different choice that the romance returned.
On the road to giving up my controlling ways, I tried to make modifications, tried to be more subtle, even thought I was improving at times with some of the techniques below. But all of it got me to the same lonely spot: wondering why my husband was withdrawn, distant and defensive.
For the record, here are all the embarrassing ways–none very effective–that I tried to control my husband:
1. Making helpful suggestions like…
"If you put things in the file drawers you'd be able to find them more easily," and "If you didn't fall asleep with the radio on you'd sleep better and be more rested." See how helpful?
2. Speaking on his behalf.
People would ask him questions-doctors, waitresses, delivery people–and I would answer for him to make sure that everyone got the right information and impression of our family.
3. Making decisions for him, like…
How much to contribute to his 401K, which clothes to get rid of in the closet so we (read: I) would have more room. Since I believed I was smarter than him, this was only logical.
4. Shooting him disapproving looks.
I frowned at the lettuce he bought (too wilted), grimaced when he talked about buying a new car (too expensive) and rolled my eyes at the shows he enjoyed (too low-brow). I was quieter but no less annoying.
5. Asking leading questions
I.E., is that what you're going to eat for lunch?  Do you have to leave so early to get there? Does that shirt go with those pants? Does this line of questioning make you want to smack me? Probably…
6. Announcing that "we" need to go to counseling.
The underlying message, no matter how you look at it, is that he's a failure as a husband. In my experience, this wins hands-down for the most expensive way to try to control your husband.
7. Telling him how I would do things.
As in "I usually go slower on this road because it's so narrow," or "I would take my car in for service if it was doing that." It's amazing just how much I knew about practically everything back then.
8. Criticizing him by saying things like…
"Don't you see how you're being passive-aggressive?" or "It's just that you're such a slob." As if my insights would help him finally understand the error of his ways and correct them right on the spot. Isn't that how human nature works?
9. Making demands like…
"You should call your mom," or "you should diversify your portfolio." I felt this was okay because clearly I was right.
10. Undoing and redoing things he'd just done and then showing him how I did them.
I'm talking about important, life-shattering things like loading the dishwasher properly and making the bed. If I didn't show him, how would he ever learn? Poor thing!
These days, I'm happy to say I'm more likely to choose intimacy and connection with my husband over indulging my urge to control. Of course my marriage is much better for it, but I had no idea there would be so many other benefits to learning how to do that, but there are.
Have I left any controlling habits off this list? If you've ever tried to control your husband in ways that I forgot to mention, I'd love to see them in the comments. I hope I'm not the only one who ever did these things…