When Your Husband Says He Is Done
4 Ways to Convince Him to Fight for Your Marriage
When your husband says he is done or, worse, leaves you, it is devastating.
If he has left and you still love him, it's easy to feel hopeless. It seems like there's nothing you can do since he has clearly made his mind up.
But what if the breakdown in your marriage is actually a doorway to a breakthrough?
Here are 4 ways to win back your husband's heart, no matter what he has said.
1. Delight Yourself at Least 3 Times Today
While it may not seem like it right now, your happiness is his drug.
But if you're anything like I was when my marriage broke down, you've probably forgotten what being ridiculously happy feels like.
Or what made you so playful, joyful, and irresistible back when you attracted your man.
Losing touch with that fun side of yourself kills the intimacy.
So how about trying something different?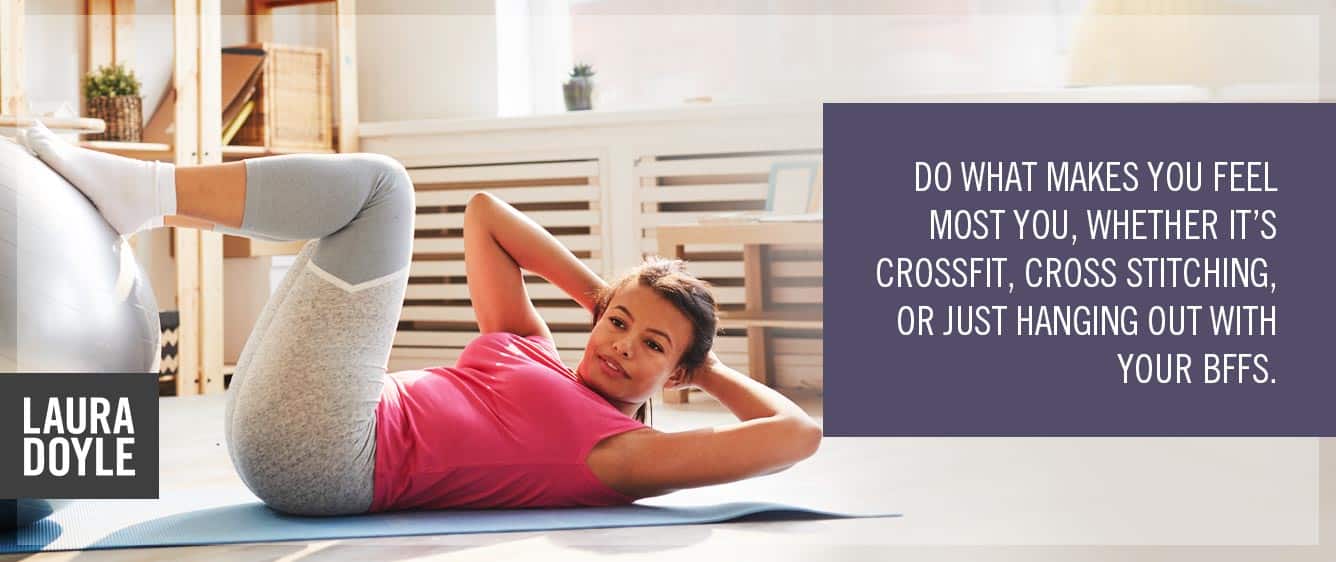 Put self-care #1 on your agenda. Do what makes you feel most you, whether it's crossfit, cross-stitching, or just hanging out with your BFFs.
The more frivolous, the better!
When Connie's husband told her he was no longer attracted to her, she knew divorce was on the horizon.
She took matters into her own hands by becoming the queen of self-care.
Not only did her husband follow suit, taking care of himself and even lowering his blood pressure, he noticed how attractive his wife had suddenly become.
He wanted to spend devotional time together–and sexy time!
She was only hoping he wouldn't divorce her. But today Connie says it's hard to believe her marriage is better than it ever was.
It's no wonder she reignited the spark. Men are visual. When you do things that make you feel good, your smile and open body language show him that your marriage can be playful and passionate again. Nobody wants to get away from that!
2. Get the Magic Words
How did your marriage come to this tipping point? Even if it wasn't your fault, consider what you can do to make the road ahead smoother.
Make these two words central to your vocabulary: "thank you." Express gratitude for the little things he does, whether taking out the trash, being affectionate with the kids, or going to work to support the family.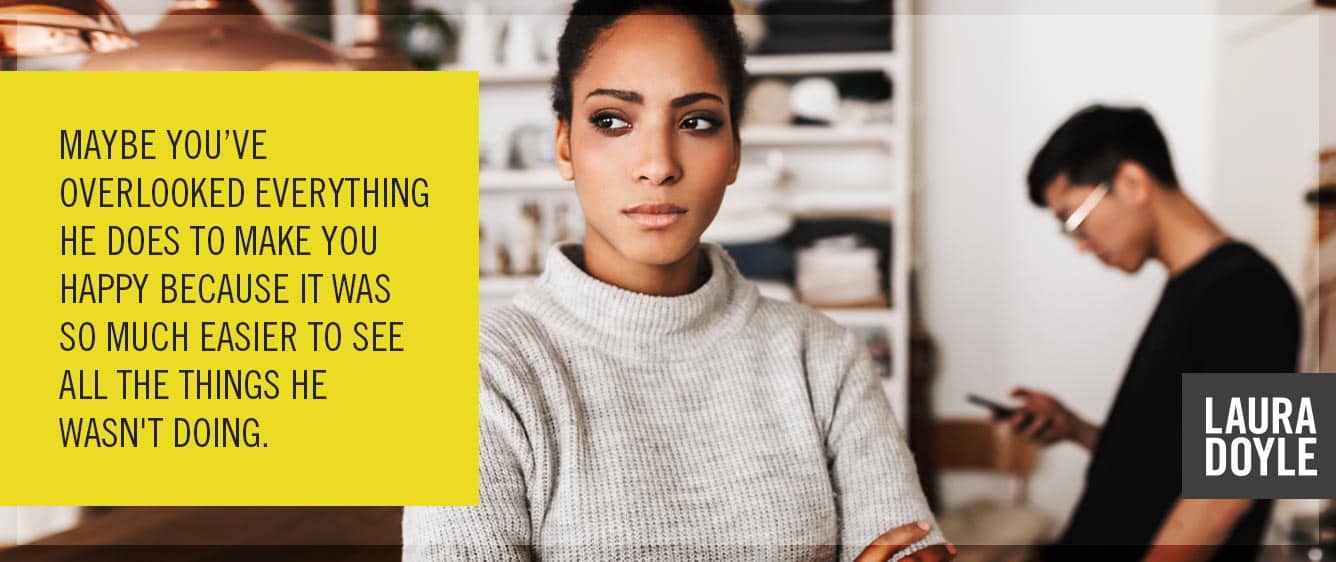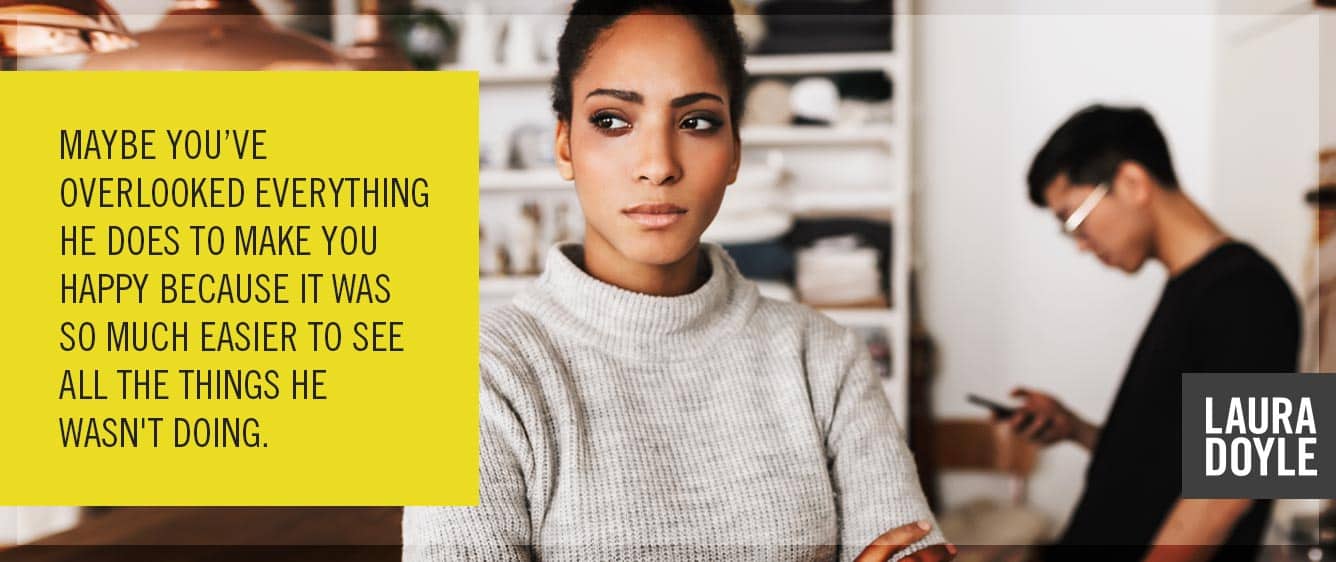 Maybe you've overlooked everything he does to make you happy because it was so much easier to see all the things he wasn't doing.
That's where another vocabulary adjustment comes to the rescue: apologizing for the times you've been disrespectful.
Did you dismiss his thinking when he wanted to stock up on ammo for the apocalypse and tell him what a dumb idea that was?
Did you demean him, joking to your friends about having an extra child to take care of?
Did you criticize him for failing at his job search?
Did you try to control him? Maybe you were just trying to be helpful about his diet or asking a leading question about his wardrobe ("You're wearing that?") or telling him what you would do about his annoying boss (i.e., the right answer, which he wouldn't come up with left to his own devices).
Yeah, I didn't realize those were all forms of disrespect either.
But cleaning up your side of the street by saying "I apologize for being disrespectful when I tried to control your spending" has a way of melting his iciness.
Now that you've cleaned your side of the street, do your best to keep it that way.
When you next talk to him, hold back any critical thoughts. Putting him under attack will only drive a bigger wedge between you.
Let him have the floor. When he feels heard, he'll be more receptive to your verbal and nonverbal cues.
Keep conversations light. Reminisce about old times, share inside jokes or playfully ask him to do something that you did in your courtship days.
Also keep your side of the conversation brief, as I share about in "How to Get Your Husband Back."
3. Get a Strong Support Base
Your biggest cheerleader?
You!
Start by changing your internal monologue. Wallowing in self-pity and recrimination only reinforces all the hurtful things you want to say the next time you see him.
Halting that mental loop can seem impossible when you're feeling so heartbroken. If that's the case, go back to step 1 and pour on the self-care!
The biggest detriment to taking care of yourself–and to saving your marriage?
Naysayers.
They're easy to find. Even your well-meaning friends and family may say things like "You deserve better" rather than standing for your vision for your relationship.
Listening to those voices is the surest route to your marriage hitting a dead end.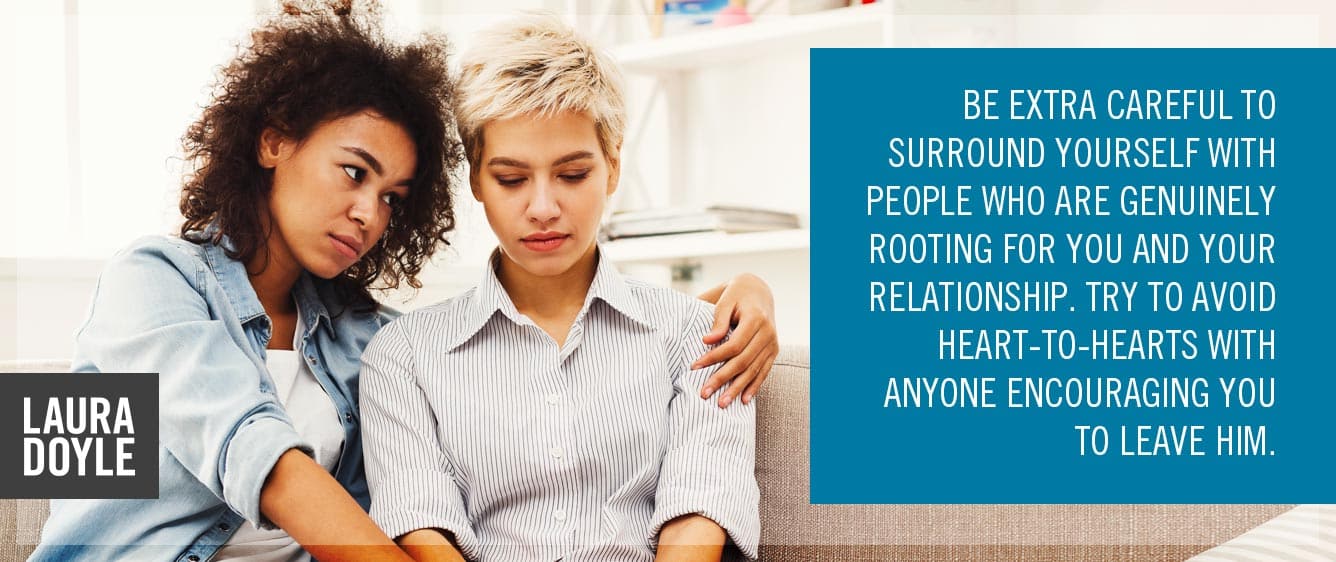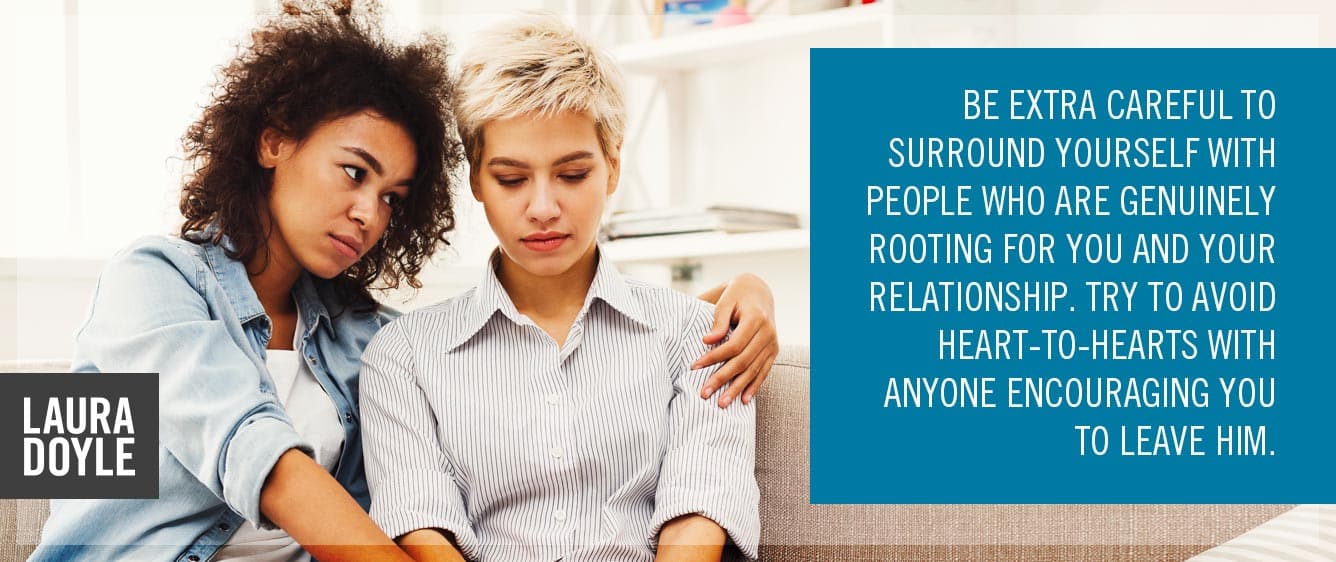 So be extra careful to surround yourself with people who are genuinely rooting for you and your relationship. Try to avoid heart-to-hearts with anyone encouraging you to leave him.
Express to your closest friends your desire to save the marriage. This will remove the negative dialogue in your life.
Get my FREE Roadmap to fill yourself up with positivity and possibility.
4. Get Back Your Dating Spark
Approach every meeting with him as if it were a date. Get dressed, get flirty and turn on the charm.
Keep non-physical contact short. Texts and phone calls should be a teaser so that he wants to see you even more.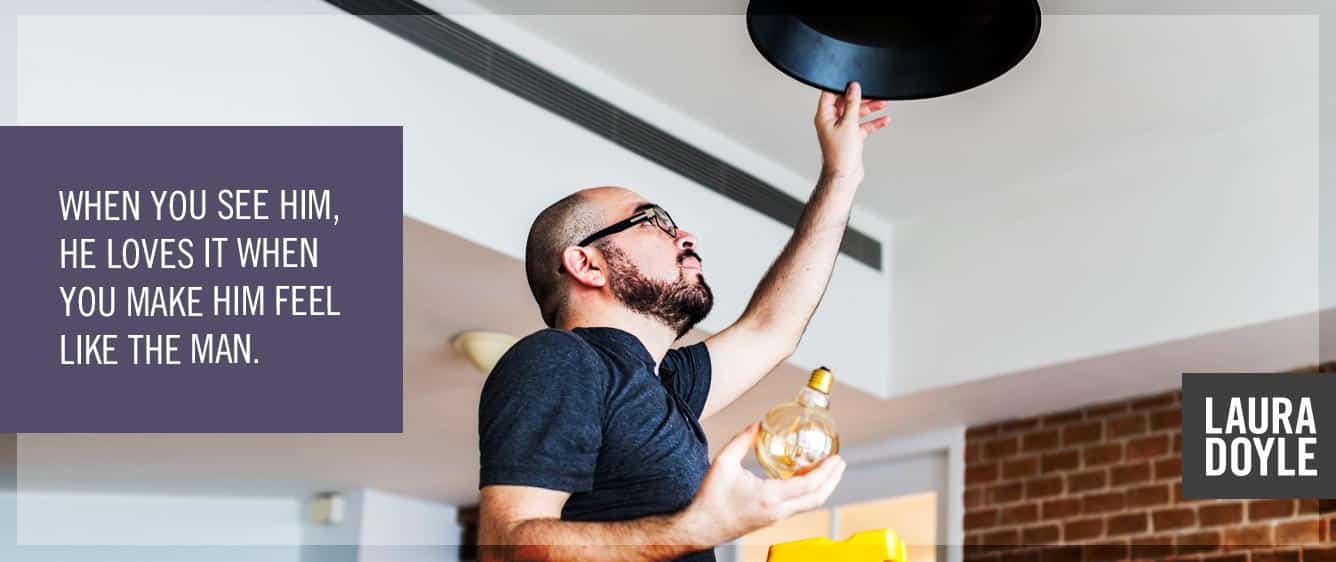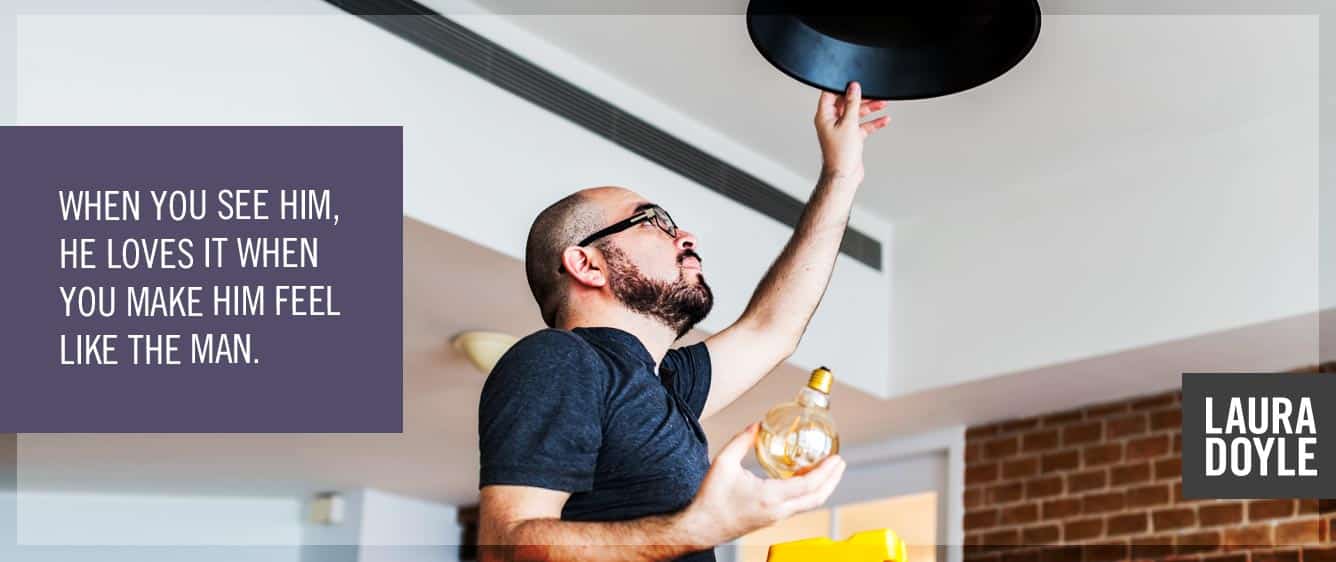 When you see him, he loves it when you make him feel like the man. Ask for his help opening the pickle jar or replacing that light bulb.
Restore your physical connection by hugging, hand holding or cuddling. It might feel really vulnerable right now, but a kiss on the cheek or resting your hand on his during conversation shows you're open to being intimate.
If he's in the doghouse, break him out. Intimacy in the bedroom is incredibly important to repair a fractured marriage.
When Stella's husband fell in love with another woman, moved out and asked for a divorce, she was a sobbing mess.
But when he came over, that's not what he saw.
Instead, she lit up when he walked into the room. She flaunted new lingerie in the kitchen, reaching into the highest cupboard so he'd get a little peepshow.
Before long, he started initiating sex. She was all in. Instead of punishing him and blocking the intimate marriage she wanted, she received his physical affection.
She then started receiving dinners and movies, flowers and cards. And, ultimately, him moving back to their bedroom.
If your marriage feels like it's falling apart, you might think it's too late to apply these 4 secrets to winning back his heart.
But when women on our campus find the courage to experiment even when they think it's completely hopeless, to quote Thomas Wolfe, "Miracles not only happen… they happen all the time."