Does My Husband Have Aspergers or a Mental Illness?
How to Improve a Relationship When Your Husband has Aspergers, ADD, OCD, Narcissism or a Mental Illness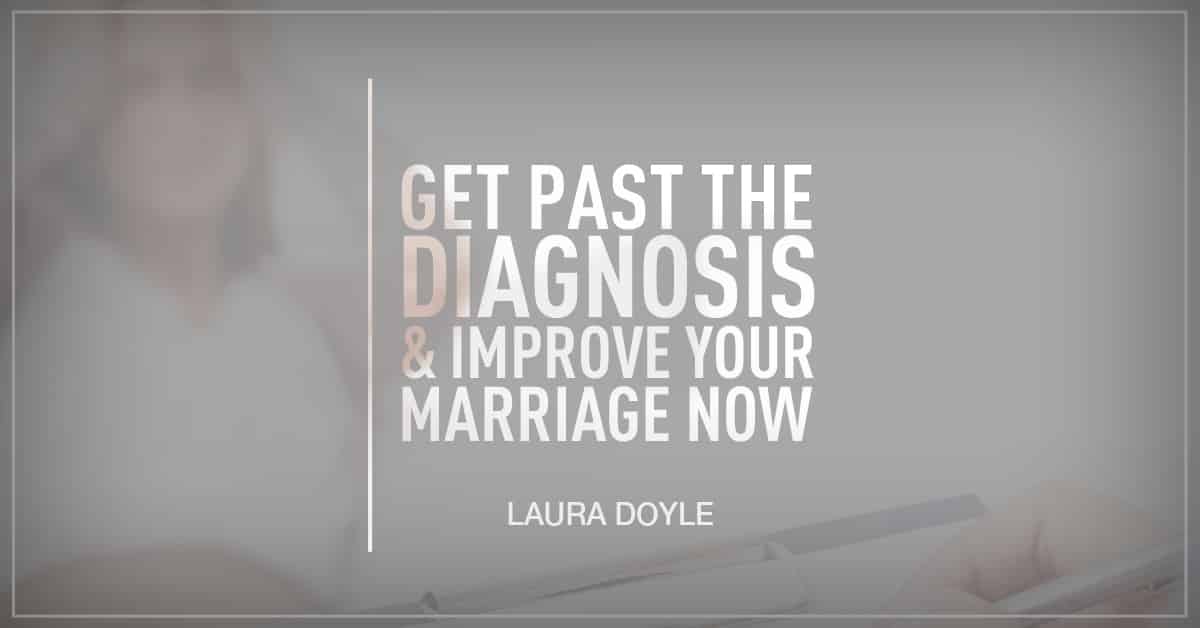 Hearing a mental health diagnosis from a professional about your husband is sad news, but it can also really seem like the doorway to the promised land where your relationship improves.
It sure did for me. Of course I was crushed to learn that my husband had a mental disorder, but I also felt hopeful about his treatment.
I'm not the only one.
"Now that he can treat his ADD/OCD/Narcissism, we'll be much happier as a couple," you might think.
It seems logical that a combination of mental health care and medication would and should improve your marriage and make your life better–especially if a marriage counselor is recommending that course of action.
That was my dream–that the counselor would figure out what was wrong with my husband and fix it so I could finally be happy.
As you know, that's not how it works.
Here's the embarrassing story of what actually happened.
1. I was Depressed and He Had a Deficit Disorder
When I dragged my husband to marriage counseling early on, our counselor told us that I was depressed and that I would benefit from taking drugs.
I admit, I was very unhappy.
Of course I was also waiting for my husband to make me happy when that's actually my responsibility. But I didn't know any better back then.
The counselor also had a very strong opinion that John had ADD (Attention Deficit Disorder).
Although Ritalin is a highly-controlled substance that can cause liver damage, the counselor and I both urged my husband to get it and take it.
That's pretty embarrassing to admit now.
I thought it was a worthwhile risk because I believed the Ritalin would help John be more organized and plan better and be tidier, which would in turn relieve me of having to be responsible for everything.
I believed that him getting treatment would ultimately lighten my load and give me more time to relax and lessen the tension between us.
Instead, he responded to my nagging in pretty much the same way after Ritalin as he did before—by withdrawing and distancing himself, which was a very painful aspect of our marriage because I felt so unloved and lonely.
That was a sad chapter in our early marriage, because the whole thing only got us back where we started—distant, stressed-out, and miserable–with nothing to show for it but lighter wallets and possible liver damage.
I'm so glad our journey didn't end there, but it very nearly did. I was very seriously considering divorce around that time.
That would have been so tragic because I'm married to the love of my life.
2. What You Focus on Increases
I was no happier after I took anti-depressants for several months, and there was no improvement in our connection as a couple from that short-lived detour.
We both stopped taking the medication, as it was rather expensive and didn't seem to be helping anything.
But I clung to our diagnoses in my mind for a while, since we'd already paid for those.
I continued to focus on my husband's deficit and disorder during that dark time…and I experienced him as lacking, and not very capable. Marriage was hard and lonely.
That was a completely different experience from the way I felt about the quirky, wonderful guy I married. I felt lucky and excited to be with him back then.
Of course, he was the same guy.
I had been focused on how funny and smart and handsome he is back then. And that's how I experienced him.
It's also how I experience him now.
Our diagnoses also seem completely irrelevant now.
So what changed?
3. I was Focused on the Wrong Person
It turns out we weren't defective—just untrained.
I was busy focusing on my husband and his problems, when the only person I can change is myself. Once I started to do that, the very problems we were trying to treat—the conflict and disconnection in our marriage—went away.
Once I learned some skills that helped me refocus my view of John and restore respect and nurture intimacy, I saw a perspective that had eluded me. I was shocked to see how much of our problems were my contribution—not his.
If I had never discovered the Intimacy Skills, I might have gone on thinking that John had a disorder called ADD…
…when the real problem was his fearful, controlling wife Laura.
Looking back, it makes sense—of course I was depressed: I didn't know how to express my feelings or desires. I didn't even know what they were. I didn't know how to be respectful instead of having a meltdown.
Naturally my husband's confidence and capabilities were shaken by his wife's constant undermining and fault-finding.
Now that I've worked with thousands of women who were in similar counseling situations with similar diagnoses, that seems like a pretty natural consequence.
When you focus on someone else, even if they have a serious mental condition, you lose your power to make things better.
Even if there had been some kind of miracle diagnosis and medicine that made him into the best husband ever (like he is now), it wouldn't have helped save our marriage.
I was in the habit of being miserable and complaining.
I focused on things outside of me (his diagnosis, for example) instead of focusing on my own self.
And because of those terrible habits, I rarely felt happy.
That was what was really wrong.
I needed training and skills on how to be happy, dignified, and respectful, and on how to honor my desires. I eventually got it from women who were happily married even though their husbands had at least the usual number of idiosyncrasies.
5. Your Husband Has Just the Usual Amount of Quirks
Mental issue or no, your husband isn't perfect–but he is wonderful. Of course he is—you wouldn't have married him otherwise. Chances are he has just the usual amount of quirks and that they sometimes seem larger than life because he is right there living with you.
If he doesn't seem so wonderful right now, it could be that you've been focused on what's wrong with him—his deficits and disorders.
That's an easy problem to fix.
Start by making a gratitude list for the qualities you appreciate about your husband. Revisit your gratitude list daily to keep your focus on the things you want to increase.
Before long you'll remember what it was you fell in love with about him in the first place—and that's how you get to the promised land.