Finding Your Purpose while Fixing Your Relationship
How to Access the Portal to Living Your Passion
When you have the vague feeling you have a calling in life that you're not responding to, it's like having an itch you can't quite scratch.
Your soul is whispering to you that there's something you're here on the planet to do–something important, but how do you find it?
Even worse, when you're not feeling purposeful, exhilarated or joyful in your work, that will lead to a strain in your relationship.
And if your relationship is struggling, that robs you from accomplishing all you want to do.
In other words, the two pain points are tied together and aggravate each other.
I didn't realize that when my marriage was struggling. I just thought my husband was a loser pants and that work was hard but I could retire in 40 years (unless I got fired again).
Fortunately, I was wrong about everything.
I haven't been fired for decades now. I do exhilarating work every day. And my marriage is amazing.
Your broken relationship can be the portal to living your purpose.
Click To Tweet
Here are 3 ways to transform your relationship and find your purpose at the same time:
Step 1: Start with Honoring Your Desires
If someone had told me to honor my desires back in the bad old days, I would have rolled my eyes and thought, "You have no idea, buddy!"
Turns out I had no idea myself. I just knew I didn't want the job I had, or the housework, or the car or the husband. I knew what I didn't want, and that's not the same as knowing what you do want. At all.
I would have told you that I had no choice because that was the job I could get, the mess I had to clean, the car I could afford and the man I'd married.
In other words, I would have complained.
Not very empowering, I know. But that's how I thought back then. I didn't know any better.
Admitting my desires, much less honoring them, just didn't seem like a good idea since I thought I was stuck with my circumstances.
But it turns out that just the opposite is true. Knowing what I want and expressing it without control have been vital for making my marriage magical again.
Instead of just hearing me complain, my husband heard opportunities to delight me–and seized them–when I said I wanted ice cream, a new bicycle or to see a Broadway show.
Seeing him respond to my desires so enthusiastically restored my faith in his desire to make me happy.
Seeing how powerful that skill was in my marriage, I decided to do the same thing in my work.
The results blew my mind.
For example, last year I expressed a desire to have my own TV show–at first just to myself. Then I told my husband. Then I shared my desire with my coaches.
The very day I told my coaches, an Emmy-nominated producer approached me about having my own TV show.
Within a few months, I got to make an Amazon Prime series.
I know! I was amazed too! What a dream come true.
Not a bad outcome for knowing what I wanted and being willing to honor it.
I say that not to brag but to show what's possible for you.
I see it with my clients all the time, who quit their jobs or cut back their hours or switch careers or become relationship coaches as a result of learning the Six Intimacy Skills™.
All because they express their desires.
How did that happen, you might ask?
I'm not sure. Then again, I don't know how electricity works either. But I know that it does.

Step 2: Think of Your Fear as a Guide
The problem with expressing your desires is it's scary. It feels vulnerable.
What if, when I shared my dream, someone had said it wasn't realistic or that I didn't have the right look for TV or that I say "um" too much to be on the small screen?
It could have been hurtful.
But once I get a desire and I notice myself feeling nervous or anxious about it, or just shying away from wanting to entertain it, I pay close attention to that.
Because it turns out everything I ever wanted requires me to go somewhere unfamiliar–somewhere I've never been before.
I know I can't grow from staying where I am or going where I've been before.
So whenever I feel desire and fear together, I see that as a directional urging me to steer that way.
It becomes my GPS.
Public speaking sounds terrifying, so I proceed.
Going on national TV scares the stuffing out of me, so I suit up and show up.
I've gone straight along the highway of founding an international coaching organization since that seems intimidating.
Yikes, yikes, and yikes!
Scary stuff. Exhilarating stuff. Thrilling stuff because I care so much about the outcome.
Guess where I learned to be so courageous like that? In my distressed marriage.
Remember the loser pants? I decided to try trusting him even though it seemed pretty obvious that I couldn't.
But the more I practiced trusting him–even though I worried something bad would happen–the more I saw that choosing my faith instead of my fear got me a better outcome.
My husband started showing up like a competent, capable, smart guy. Like the one I'd fallen in love with.
Seems he wasn't a loser pants after all. He just has an acute allergy to an overbearing wife.
Step 3: Tell Your Embarrassing Stories
I'm so grateful to get to do the work I do everyday as an author and relationship coach because I love it and I feel so purposeful doing it, but the truth is I had to work for myself because I kept getting fired from my jobs.
If you keep getting fired, that's one sign you're not living in your purpose.
And if you think that's embarrassing, you're right. It is.
But I'm telling you anyway because this has also been key to my success: admitting things out loud that I feel shameful about.
Shame is the lie that we are separate, but we're not.
And while you may not have had the lousy experience of being fired or screwing up your marriage, perhaps you have felt utterly fallible in some way too.
Turns out, that's how it works. Sure I'm a confident, bestselling author and media personality.
I'm also a complete mess sometimes.
And the more I show up like the mess that I sometimes am in my marriage, the more my husband is drawn to me like a magnet to steel.
So I started practicing being vulnerable at home with my husband. I liked how authentic I felt, how relaxed and how loved.
There's nothing to hide when I'm just being myself.
Then that authentic me started to show up in the rest of the world too.
Granted, I have many detractors. But lots of women tell me that I seem so much like them that we may be the same person. They seem happy about it.
I'm happy about it too. I love the connection I feel with them.
In fact, I love it so much that I've surrounded myself with women like you, who want to feel purposeful in their lives and passionate in their relationships. Some even feel called like I do to carry the message of the Six Intimacy Skills to the women struggling in their communities. These women train with me to learn the Intimacy Skills at the highest level and become powerful relationship coaches who stand shoulder to shoulder with me in the mission to end world divorce.
Next month, I'll start training just 20 committed women who feel called to help other women with their relationships.
If that's something you're curious about, I invite you to come to my free course, Purpose, Prosperity, and Intimacy: How to Have All Three and Help Others Have the Same.
If your soul is whispering that there's something you're here on the planet to do–something important–and you want to discover it, then I invite you to save your seat by registering now.
I think you're going to be really glad you came.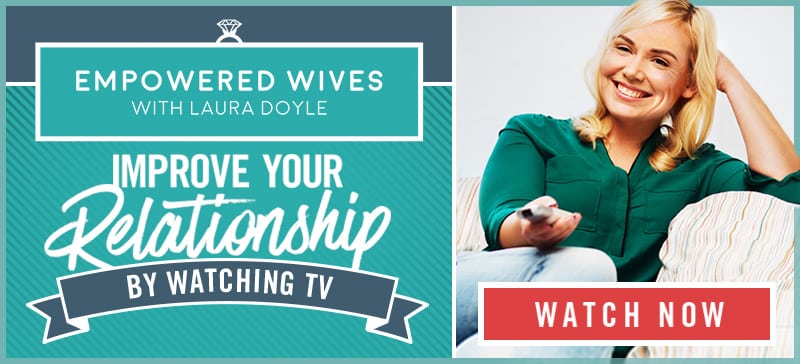 ---
Hi! I'm Laura.
I was the perfect wife–until I actually got married. When I tried to tell my husband how to be more romantic, more ambitious, and tidier, he avoided me. I dragged him to marriage counseling and nearly divorced him. I then started talking to women who had what I wanted in their marriages and that's when I got my miracle. The man who wooed me returned.
I wrote a few books about what I learned and accidentally started a worldwide movement of women who practice The Six Intimacy Skills™ that lead to having amazing, vibrant relationships. The thing I'm most proud of is my playful, passionate relationship with my hilarious husband John–who has been dressing himself since before I was born.