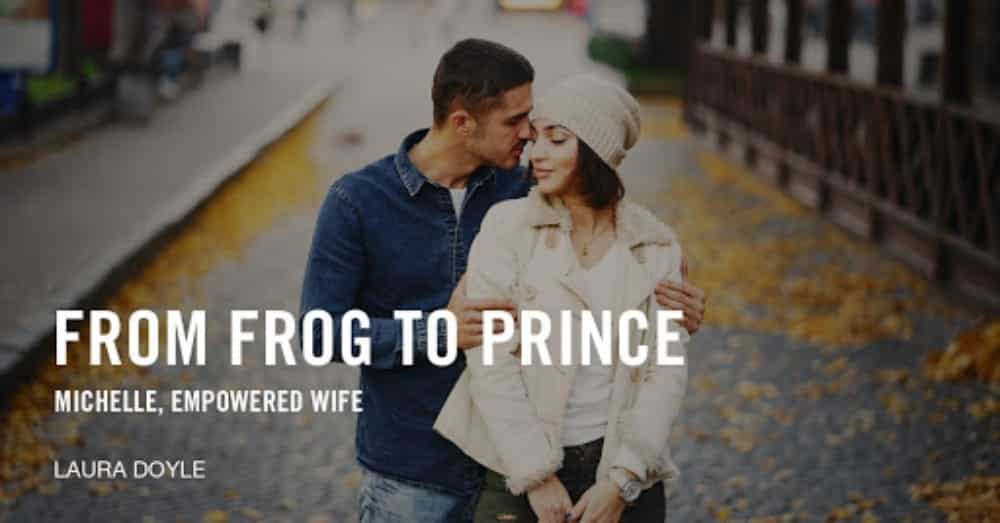 By Empowered Wife Michelle
Like most little girls, I always thought I would meet, fall in love with, and marry my very own prince charming, so when I did marry at 21, I believed I had found my happily ever after. But it didn't take very long for my fairytale to turn into a big, fat, over-ripe pumpkin.
After over twenty years of unhappily married life and five children, I was pretty much set on tossing my frog back into the pond, hoping to catch a prince. I told my husband to move out. We did try some marriage counseling, but I was ready to get the paperwork started for our imminent divorce. I looked for an attorney, but each office I called had one conflict or another and couldn't take my case. I realized maybe it was a sign that I was being too hasty. But where else should I look for answers?
A friend of mine recommended I read the book The Surrendered Wife, by Laura Doyle. My immediate reaction to hearing the title was less-than-enthusiastic, but I gave it a shot anyway. To my surprise, nearly every page I read was like looking into a magic mirror full of my disrespectful, controlling, and complaint-filled behavior in my marriage. I never realized how much I had actually contributed to my unhappily-ever-after, and it was a bit of a shock. Maybe my Frog wasn't as bad as I was making him out to be and truly was my prince.
Once I began implementing the intimacy skills outlined in the book and established a self-care routine, I started noticing some big changes. My Frog and I had been separated for about nine months, but after practicing the skills and re-learning how to communicate my needs, my Frog was moving back in! We had some bumps along the road, but overall it was such an amazing transformation when I finally began to see that the man I had married nearly 22 years before was not a frog at all, but had remained my prince charming. I was just too busy being in control and micromanaging him that I didn't see I was the one who had changed into something unpleasant, not him.
One of my greatest joys that came with practicing and implementing the intimacy skills was seeing my Prince be an amazing father to our children. Before surrendering, when I was so busy trying to have everything done my way, I never gave my prince the chance to be the dad he wanted to be. But when I let go of my fear, he had the opportunity to stand up and be great for our kids. I now can sit back and watch him parent with admiration and support at what a great dad he is.
For too many years I suffered in a marriage that was more nightmare than fairytale, not knowing if I would ever find my happily-ever-after, but after practicing the intimacy skills and principals, I am the princess who lives in a cherished, peaceful, and loving relationship with her prince.
If you want to get support by working with a coach, apply for a complimentary Discovery Call here.