Getting Over Being Cheated On
3 Specific Ways You Can Recover and Be Better than Ever
Getting cheated on is ridiculously painful.
It's a betrayal that hurts like crazy and seems like it could be impossible to recover from–personally, and as a couple.
I mean, how could he?
It's human to want to make him hurt too, and to yell and throw things. It's irresistible to berate him.
From crying in your ice cream to asking your sister, "How could he do this to me?" your husband's affair can take up a lot of room in your head.
You'll find yourself desperately looking for relief from the sharp ache.
That's when the doorway marked, "End this relationship!" will look incredibly appealing. It will seem like the fastest way to stop the same relentless thoughts from cycling in your head.
That's just an illusion, though. The hurt won't die with the end of the relationship. That's the bad news.
The Good News: You can absolutely get past the cheating and have a vibrant relationship again.
Click To Tweet
Here are 3 ways you can save your relationship by making it better than it's been for a long time, along with the specific actions that will help you get there and end your suffering in the process.

1. At First, Do Nothing
Before the infidelity, you didn't want this relationship to end.
Of course you didn't! You're the good person who was honoring your commitment to your one and only, before you realized you were married to a lying, rotten, cheater-pants who crushed your hopes and dreams.
He could still be a good guy, believe it or not.

Even though it seems like everything has changed, you still don't really want the relationship to end.
That doesn't make you a sucker; it makes you committed. I admire that.
Great things are on the other side of this pain, and commitment will help you get there.
It's likely that your marriage has been on fire for a while. What's changed is that you can't ignore the flames and smoke anymore.
You're still married to the man you chose, and in whom you saw the potential for a long and happy life together.
And even though there's been a big breakdown, he's still that same man.
Your primary motivation for kicking him to the curb right now would be because you want him to hurt.
You could argue that you're motivated by self-respect—that you want him to know that it's not okay to cheat on you and that there are consequences, but what you really mean is, "That rat has to pay!"
From one mere mortal woman to another, I understand why you feel that way.
Here's the problem. Since your fate—your finances, your family, your friends—are bound together with his, that's the same as making yourself pay. It won't lessen your pain one iota—it will increase it.
His suffering will be inseparable from your own. Save yourself from being where the heavy boomerang will inevitably land by marshaling all the restraint you possibly can.
Certainly, things are going to have to change, but your relationship status doesn't have to be one of them.
Commit to moping for a while, definitely. Don't let anyone out-mope you!
Let your feelings of humiliation, fury and abandonment rise to the surface and have their day in the sun—but consider having them with someone other than your man.
I know it's counterintuitive, but consider delaying any big decisions, speeches and confrontations for a time when you've recovered from the shock.
It could be a while.
The longer, the better.
I'm not suggesting you sweep this under the rug, but I am suggesting that I know of no benefit to crying, screaming and yelling at your betrayer other than catharsis—and you can get that somewhere else for a lot less.
You won't always feel that you want your husband to hurt.
Hesitating now could save you years of misery.
So step 1, doing nothing at first, may not feel like a step at all. But it's a big one, a wise one, and it can be done.
It's exactly what I see women who have come out of infidelity with shiny, happy marriages do.
2. Accept What You Can't Control
Maybe your husband is still cheating, right this minute, as you read this line. He may see her at work, be texting her, or be in a hotel with her right now.
If only you could make him stop, you're sure that would be such a relief from your agony.
If you knew he would never do it again for sure, that would make it so much easier to trust him again.
The problem is that's not at all in your control. And trying to tell him what to do at this point is going to drive him further into her arms—not yours.
Same with begging, pleading, crying, reasoning or threatening him. It all does the opposite of what you want it to do. Plus, it's pretty exhausting.
Even if you could make him stop by demanding it, it wouldn't mean much. You want him to choose you because he wants you—not because you said you'd kick him out otherwise.
Crazy as it sounds, once he knows you don't like it at all, not one bit—which he already does at this point, I'm sure—there's not one thing left to say to him regarding his mistress.
You can't control their relationship, but you can use your tremendous influence and power to attract him back to you alone.
Every second you spend thinking about her—looking for signs that she's still in the picture, checking his phone or his social media—is a precious second you lost from creating the future you want with your husband. Plus, it's going to rip open the wound all over again.
So for now, the mistress may be meddling. But since what you focus on increases, consider putting your focus anywhere but on her.
Instead, consider focusing on what you have control over, which is how you show up in your marriage.
Are you the flirty, magnetic, happy woman you were when you fell in love? If not, take some time to go and find her again and make sure your husband gets to see that side of you.
He found you irresistible before, and he will again if you are consistently the way you were when you fell in love.
3. Decide to Trust Him Again
You may wonder how you'll ever be able to trust him again.
The answer is to pretend that you do trust him, even though it seems pretty obvious right now that you can't.
I had to stretch to do this myself with my husband—not around being faithful, but around paying the bills, which was where I had the least amount of trust in him at the time.
It took all my might. But I learned that the only way you can ever trust someone is because you decide to trust them.
Trusting doesn't include checking up on someone to make sure they're behaving. That's the definition of doubting and mistrust.
Trusting can involve wrestling with your own doubts in the night, or taking them to a third party—not the person you're trusting.
It doesn't mean you won't ever get hurt again.
So why on earth would you decide to trust again?
Being in a perpetual state of doubt is exhausting and painful, for one thing.
And since there are only two real options: accepting or rejecting (and rejecting means that you leave–not stay and complain or tolerate) I prefer to save my energy and avoid Needless Emotional Turmoil (NET).
But I've discovered that the best reason of all to decide trust my husband is because…
Choosing my faith instead of my fear dramatically improves my chances that I'll experience the outcome I'm wanting.
It's like the part in the Serenity Prayer that references "the courage to change the things I can."
Sure it's scary as heck sometimes. But as Ambrose Redmoon wrote, "Courage is not the absence of fear but the decision that something else is more important."
For today, are you deciding to trust your husband or to doubt him?
---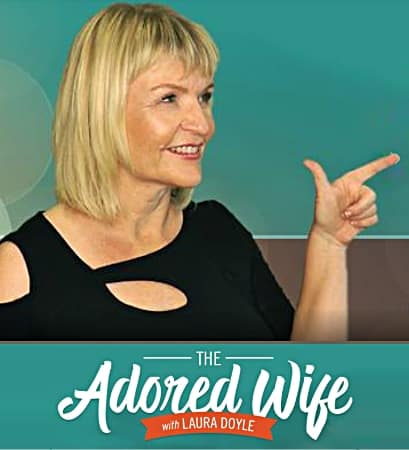 Join a community of 15K like-minded women who care about having amazing relationships. Click here to join my FREE private Facebook group.
Hi! I'm Laura.
I was the perfect wife–until I actually got married. When I tried to tell my husband how to be more romantic, more ambitious, and tidier, he avoided me. I dragged him to marriage counseling and nearly divorced him. I then started talking to women who had what I wanted in their marriages and that's when I got my miracle. The man who wooed me returned.
I wrote a few books about what I learned and accidentally started a worldwide movement of women who practice The Six Intimacy Skills™ that lead to having amazing, vibrant relationships. The thing I'm most proud of is my playful, passionate relationship with my hilarious husband John–who has been dressing himself since before I was born.