Passive Aggressive Husband or Boyfriend
How to End Hostilities with a Man Who's Negative, Sullen and Obstinate
If you're married to someone who is passive-aggressive, then you're frequently facing resistance to the simplest things.
His negative attitude is obvious, and sometimes he's hostile for no reason.
When he says he "forgot" to pick up the groceries when he promised he would, you have a hard time believing it was accidental.
He doesn't come out and say that he's mad about having to drive the kids around yesterday while you were at your sister's house.
That would be direct, which is the opposite of passive-aggressive. If he was direct, then you'd be able to communicate about it.
But he's not, so you have to just guess what the problem is when the tension is so thick that clearly, there IS a problem.
That's the challenge of living with a passive-aggressive husband.
There is a cure for a passive-aggressive man. It's probably not what you imagine.
Click To Tweet
It doesn't require him to go to a therapist, read a book or take medicine.
These three simple steps–all within your control–will put an end to your suffering from his passive-aggressive behavior.

1. Stop Reading His Mind
Janice was highly skilled at reading facial expressions and gestures, to where she felt she could practically read minds.
When her passive-aggressive boyfriend was planning their vacation, he had a look on his face that she was certain meant he thought it was too expensive.
To avoid a confrontation, or him becoming negative and complaining, she offered to contribute an amount that exceeded what she was comfortable spending on the vacation.

He didn't actually say that he wanted her to contribute so much to the vacation expenses. She just concluded it from a fleeting expression.
In other words, she read his mind.
Moments later, however, Janice was feeling resentful about how much she was ponying up for the trip, which left her feeling rather negative herself.
That resentment made her question whether she even wanted to go on the vacation with her passive-aggressive boyfriend, who she projected would probably be sullen on the trip anyway.
Before they ever packed a bag, she was already having a lousy time on the vacation.
Clearly, her man is not the only passive-aggressive one in this relationship, right?
Later she asked him how he would have felt if she hadn't offered to pay so much for the vacation, and he seemed surprised to hear that she thought he had been stressed about it.
He hadn't.
It was all a misunderstanding that she created by imagining that she knew what he was thinking and acting preemptively to solve a problem that didn't exist.
Which happens a lot with mind-reading.
The takeaway? Consider giving up reading smoke signals, tea leaves or facial expressions to try to figure out what he's feeling or thinking.
If he tells you directly, then you'll know. Otherwise, it's safe to assume that everything is fine with him.
If it wasn't, he would tell you. After all, he's a grown man. He knows how to talk. There's no need to interpret for him.
You might feel like you do know what he's thinking, because you've been with him so long that you know what his next move or sentence will be.
If you don't like the outcome you're getting from him when you read his mind, consider experimenting with pretending you don't know what he's thinking.
2. Clean Up Your Side of the Street
When a man feels disrespected, it's very common for him to respond by being obstinate and negative.
I'd go so far as to say disrespect is the number one cause of obstinate, negative husbands and boyfriends.
When he reacts that way, however, wives and girlfriends who don't realize they were disrespectful often look for explanations from mental health professionals, or search the Internet. The definition of passive-aggressive may seem to fit your experience.
But that's almost never the real problem.
So to make sure that you're not unwittingly exacerbating your husband's or boyfriend's foul mood, check to see if you were disrespectful.
Did you tell him what to wear to work?
Did you interrupt him while he was talking to the neighbors and finish his sentence for him?
Did you tell him how to cook the burgers he was grilling?
Did you do anything that would call into question his capabilities and competence?
Because that could make a man mad, mopey and miserable.
If you think you contributed to your boyfriend or husband's dark mood by saying or doing something that was disrespectful, then it makes sense to clean up your side of the street by apologizing for that specific incident or what you said.
Luckily, you can restore the peace in seconds with an apology for being disrespectful.
Once you've apologized, it's done. No need to repeat yourself if you've already delivered the message.
Just one specific, accountable apology is all you need.
It can do wonders.
As long as your side of the street is clean, there's no need to fret about what might be causing him to sulk or procrastinate. That's his business, and it's not within your control.
3. Tend To Your Happiness
Another interesting thing that happens when you're with a passive-aggressive man is that you tend to lose track of what you're feeling because you're so busy trying to figure out why he's being so resistant or negative.
But while you're focused on his mood or snippiness, your own life is going by with no one attending to it.
Your husband's crummy mood is not within your control.
But your attitude and happiness definitely are.
Consider focusing on what you can do, which is to be making yourself happy, regardless of what he's doing.
If you've taken your eye off of the ball of tending to your own feelings and desires, who's making sure that you don't get negative?
Instead of wondering what he's so upset about, consider asking what your own feelings are in that moment, separate and apart from him.
Are you happy?
If not, what are you going to do about that?
Forget about what you think he wants for a minute. What do you want? Will you be giving that to yourself pretty soon?
Don't let the storm cloud over his head rain on your parade.
It's okay to ignore that little cloud, and trust him to deal with whatever it is in his own way.
After all, you have an important job to do–to make yourself smile.
And when you do you may find that he doesn't seem as passive-aggressive after all.
---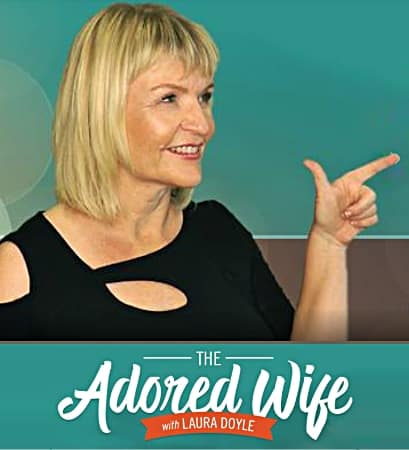 Join a community of 15K like-minded women who care about having amazing relationships. Click here to join my FREE private Facebook group.
Hi! I'm Laura.
I was the perfect wife–until I actually got married. When I tried to tell my husband how to be more romantic, more ambitious, and tidier, he avoided me. I dragged him to marriage counseling and nearly divorced him. I then started talking to women who had what I wanted in their marriages and that's when I got my miracle. The man who wooed me returned.
I wrote a few books about what I learned and accidentally started a worldwide movement of women who practice The Six Intimacy Skills™ that lead to having amazing, vibrant relationships. The thing I'm most proud of is my playful, passionate relationship with my hilarious husband John–who has been dressing himself since before I was born.