Why My Wife's Approach to Relationships is Better Than Marriage Counseling by John Doyle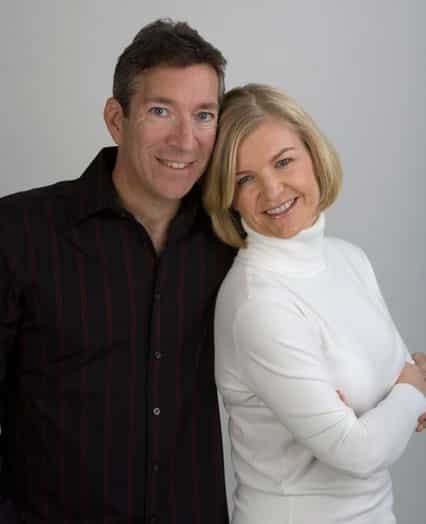 When Laura and I first met, she was a 21-year old journalism student at San Jose State University. She had just gone to an event downtown and was dressed to the nines. Having just gotten back from the beach, I was gross and sandy. I had parked my pickup truck and was walking toward my front door and she was standing on her front porch.
Laura was the proverbial "girl next door." Her apartment shared a wall with mine, and many times I could hear her talking on the phone or to her roommate, laughing at something. So even before I met her, I knew she loved to laugh.
In our conversation, I told her I liked to play guitar and participate in amateur theater plays. Now if you ask Laura, this is where the story diverges. Laura says that she said "I'd like to go to a play sometime." My recollection is that Laura looked up to the sky and said "I wish someone would take me to a play." I felt that the ball was in my court and I asked her out right then and there.
Perhaps there is a key to Laura's philosophy from her book, The Empowered Wife: Six Surprising Secrets, for Attracting Your Husband's Times, Attention and Affection in that exchange. Laura was expressing her desire to go to a play in the near future. She didn't say "we should go to a play" or "you should take me to a play." She said "I'd like to go to a play sometime." However I heard or interpreted the words, they instilled in me a sense of urgency to ask her on a date.
Before I met Laura, I hadn't dated for over a year. I'd had a couple of long-term relationships, but I wasn't ready to commit to a permanent one. At the time, my mother said that I hadn't found someone I liked "better than yourself" yet, and that when I did, "you'll chase her until she catches you."
Much of what attracted me to Laura was that she smiled a lot, and seemed so happy when I would see her. We became boyfriend and girlfriend in March and were married in September the following year.
In August, the year we met, I surprised Laura by taking her on a trip to Hawaii. At first, we were having a great time, enjoying our vacation. Then one day she was upset that we weren't doing something she wanted to do. She had wanted to go to the beach, but we were driving around inland. I was a little over hungry, and not very responsive. She started raging at me. Here we were in Hawaii, on a trip together that I took her on, and she was yelling and belligerent. But we were still new as a couple, and I thought that these few brief incidents were aberrations.
Most of the time in our relationship, things were good, and Laura was sweet and funny, and we got along really well. We were happy enough together that we wanted to get married. The wedding was really great, and our families were both there to bless us.
On our honeymoon, in Mexico, Laura was yelling at the staff because a 50 dollar coupon wasn't honored for our ride from the airport. She was really angry and seemed a little out of control. The staff at the hotel seemed rather hurt by her berating them. The second part of our honeymoon was in Las Vegas, and everything went fine, with no raging or yelling.
As our marriage progressed, sometimes she would be nice, then angry and controlling. Seemed like this happy young woman I had married turned into an angry unhappy person. It was kind of a Jekyll and Hyde situation. Much of what I tried to do for her wasn't good enough, and she would occasionally berate me for not being the husband she wanted me to be.
Laura is what you might call a feisty person, and most of the decisions I made were under her scrutiny and subject to her approval. It seemed like every step I would take required her observation and commentary. Just a simple decision I would make for myself usually was answered with an opposite suggestion, although I did not solicit her advice.
So we struggled along for a few years. Much of my energy was spent in conflict avoidance and hiding my opinions and preferences from Laura, just staying out of her way. There were a lot of arguments, and when I felt one coming on, I would run and hide to the safety of the TV or someplace out of the house.
Finally we were driving on a date to a restaurant near Disneyland ("the happiest place on earth") and she was yelling at me about something, and I said "That's it! Let's go to counseling, if it will fix this! I don't care if it's all my fault!"
To make a long, expensive, frustrating story short, marriage counseling didn't work. It made things worse. It was basically a complaint fest. I don't feel like I was my best self when we were in counseling.
In counseling, I was encouraged to get in touch with my feelings, but my feelings had to coincide with the status quo of what I was supposed to feel, unless I wanted to be wrong, and confirm that I was a bad husband. I cooperated with the counselor as much as possible, but it was like there was the real world, and the world inside the counselor's office. After two years we weren't any better off than when we started. Laura and I would come home unhappy and angry from our counseling sessions. We decided that counseling was expensive, unworkable and a mess, so we quit.
Then something began to change. When Laura began experimenting and practicing her Six Intimacy Skills™, it was without my knowledge. She didn't tell me that she was secretly plotting to make our marriage better.
I noticed that I would expect a fight and not get one. Where there used to be a big discussion about things, either around the house, our finances, or personal choices for my own life, she would just say "ok, that sounds good. " That would be it. Because I was expecting a battle, it would throw me off.
She started saying things like "thank you for working so hard for us." I would get a little scared because I worried that her expectations seemed high, and that I would screw up and she would be angry with me again. However, something about our relationship was definitely changing, I was sensing the change, and I liked it. .
As time went on, I started to feel less constricted, and I was able to think things through for myself, and act upon things without expecting to be second-guessed. This made a big change for me. I had worked a lot of mid-level office jobs that I would quit because they were too much drudgery. After Laura started using her intimacy skills, and because I felt more able, I stopped working for other people and started my own video business. It's a lot of work, but I like working. Now I feel protective of Laura, and motivated to be the husband she deserves.
I know that no relationship is perfect, but ours has become as close to perfection as I can imagine. Laura and I don't agree on everything, but we can discuss matters without me running and hiding, and without her bulldozing and crushing. I have learned that I can still be easy-going, yet stand firm about what I believe, and that Laura can still be strong, but not have to lose her vulnerable feminine ways, which are so attractive. This way we each get to be ourselves and also experience the person we love, and not lose them by my running away or her bulldozing. Because of the changes in our relationship, I'm more accomplished, I feel I can achieve more in my professional life. I'm closer to her, and I feel more respected. I still want to pursue her the way I did when we were dating.
Laura is the real thing, she's the genuine article. She "walks the walk" of what she says. Every day I am grateful that we share our loving relationship together.