3 Signs the Relationship Is Over for Him
And What You Can Do About Them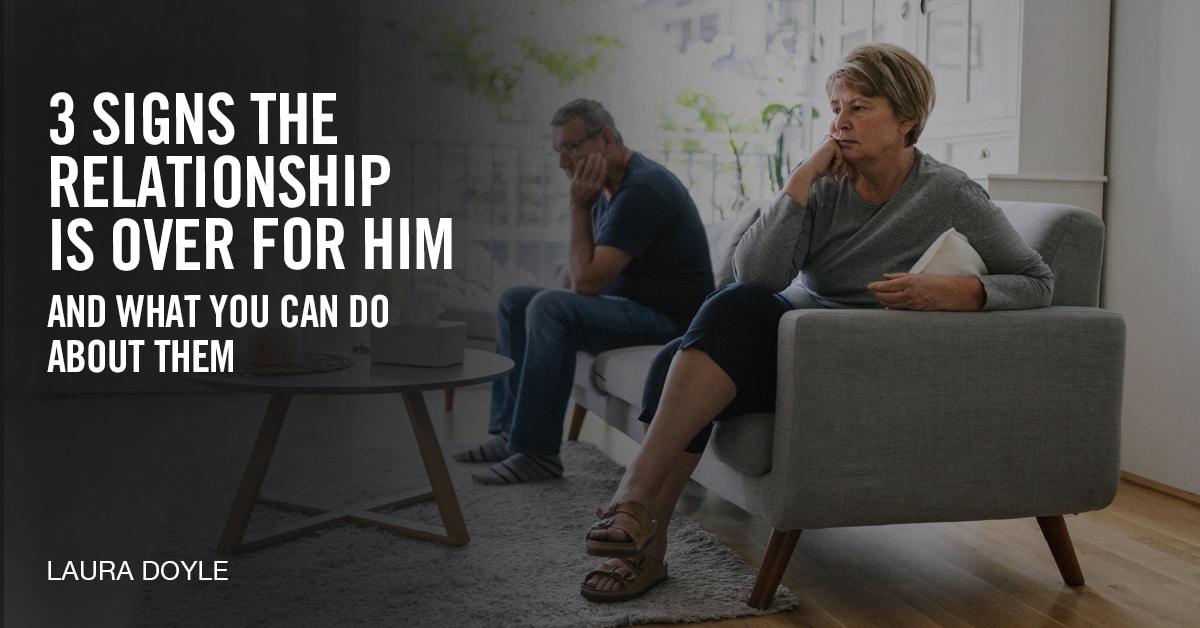 When you're wondering whether the relationship is over for him, it's because you're worried that you're going to be left. You're scared that you're going to be abandoned and you want to know the future so you can prepare and somehow soften the blow to your heart.
If you just knew one way or the other, you could cut your losses and stop wasting your energy. Being able to see ahead to the future seems like it will be a salve, something to be able to make plans for your life around. So it's only natural that you would look to what he's doing to find out.
Is this relationship going to end? What are the signs?
But an even more interesting question is: What are your intentions for this relationship?
Because that matters. A lot!
Let's say, for example, you've experienced sign number one:
1. He Says It's Over
This is a terrifying sign that your relationship might be ending. It's devastating to hear those words, which seem like a pretty unequivocal message that he's done.
But is it really over when he says that?
Could be. Or it could be his way of saying, "I'm not getting what I need in this relationship and that needs to change, but I'm afraid it's not going to."
If he hasn't been getting what he needs in the marriage, that means you probably haven't either.
But what was it that he needed and didn't get?
My first guess would be respect. And that's because nobody ever showed you what respect actually looks like, even though you probably heard plenty of times, just like I did, that you SHOULD be respectful.
That isn't enough, in my experience.
I needed to know what that meant and why I would want to be respectful, what was in it for me. Turns out there's dignity in being respectful, and there's calm and confidence. I feel like my best self when I'm respectful.
Plus, my husband gets the oxygen he needs. When I say oxygen, I mean respect.
So why be respectful to your husband when he says the relationship is over? What is there to respect about that?
Maybe it's more about you and how you want to show up in this situation. Would you like to show up with dignity and calm and be your best self?
If you have been unwittingly depriving your husband of oxygen, then restoring that respect might just be the key to making your marriage last, even if he's saying it's over.
2. He Files for Divorce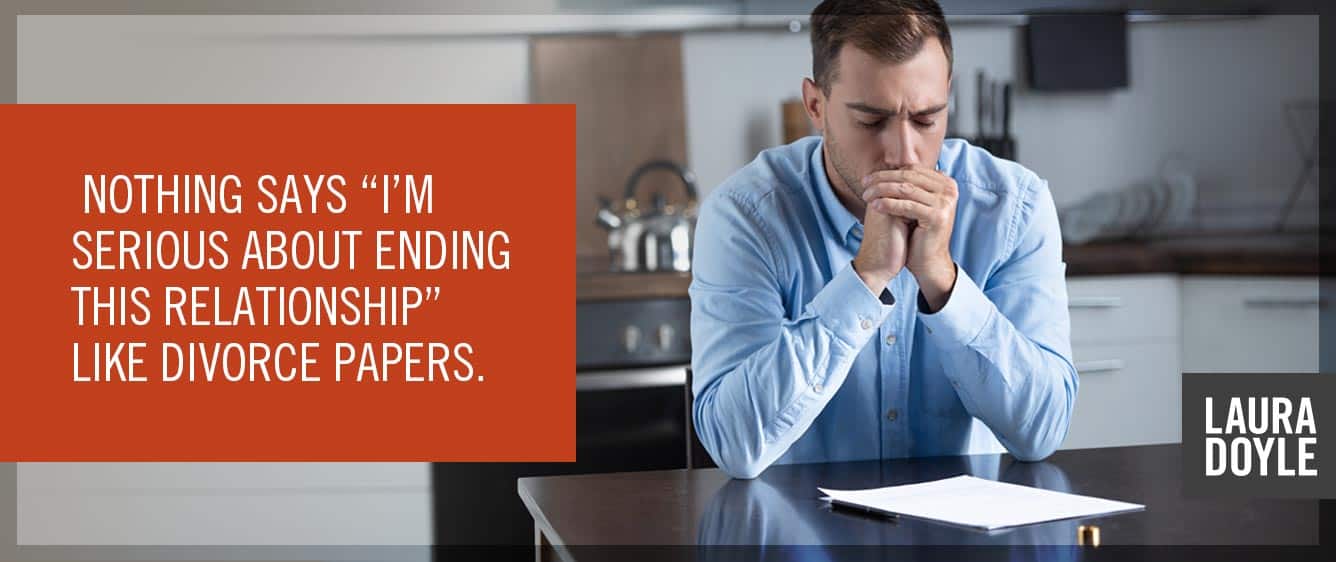 You might think that your husband filing for divorce is a sign that the relationship is over for him. I can see why you would think that. Nothing says "I'm serious about ending this relationship" like divorce papers.
But I've seen so many marriages turn around after the divorce papers are filed that I no longer see it as the death knell for a marriage. I think of it as a wake-up call. It's his way of saying "I'm not happy and I can't make you happy. And we both deserve to be happy."
Many women find our campus after he's filed for divorce and then…they start to get happy. What if that was all he ever wanted? For you to become happy.
I know it sounds contrary when you're going through something so painful, scary and hard. But what I see all the time is that women who get the Six Intimacy Skills™ and the Connection Framework create their own miracles, even after he has filed for divorce.
Sometimes the divorce proceedings are stopped and the marriage is renewed. Sometimes the divorce goes through, then the couple gets remarried.
That was Christy's story. She didn't let the divorce being finalized mean that the relationship was over.
3. He's Paying More Attention to Someone Else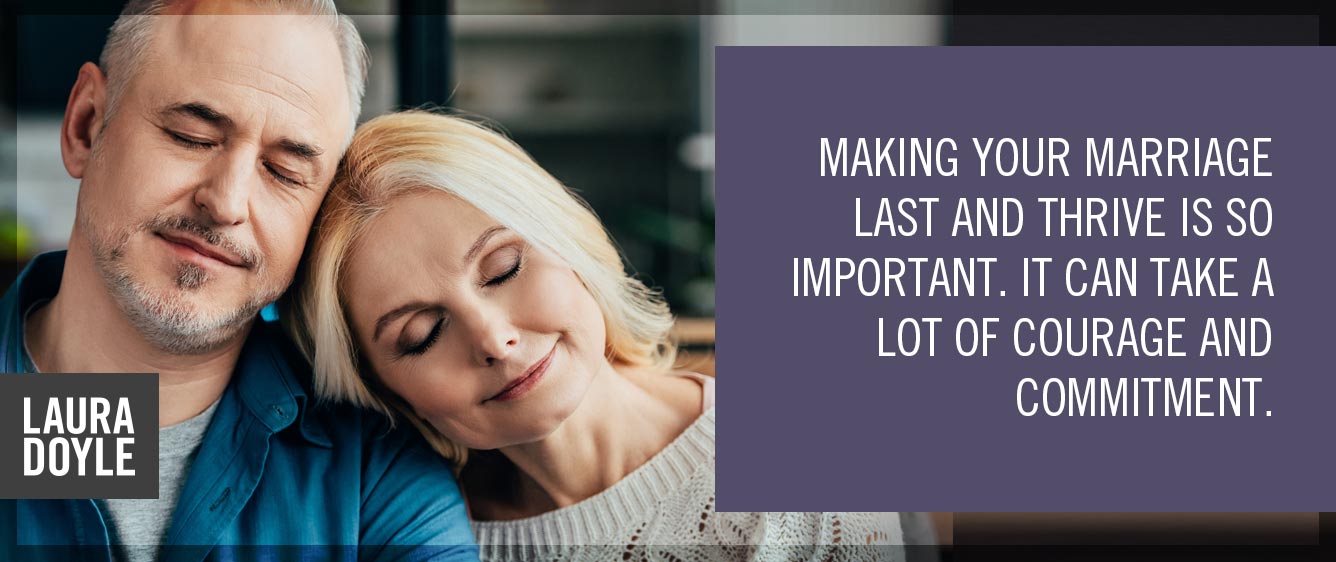 What if your husband is spending more time, giving more energy and connecting more with someone else than he is with you? Isn't that a sign that the relationship with you is over?
It can be if you want to make it that. If you want to focus on that and give the other woman your energy, that will increase her presence in your life, in my experience. And it can be very, very tempting to focus on her, more tempting than a Cinnabon.
But there's someone else who desperately needs your focus right now, and that's you. How are you feeling? What do you want? And how can you give yourself that today? Those are some of the most important questions to ask yourself if you want your marriage to last and thrive.
And I know you do, because you wouldn't be reading right now if you didn't. You're investing in your marriage right now by reading.
Making your marriage last and thrive is so important. It can take a lot of courage and commitment. So here's to you finding the answers and the questions that serve your mission to end world divorce, starting with your own.
I admire that.
Now that you have the keys to save your marriage—restoring respect, getting happy and choosing your focus—which will you try first?