My Husband Is Nicer to Other Women
How to Get the Sweetness You Deserve
One of the worst feelings is when you're not getting much of your husband's time to begin with then you hear his voice get all warm and happy when he's talking to the neighbor or on the phone with a co-worker or even the bank teller.
It's hard not to take it personally.
Or if he's always texting a "friend" who's a woman and doing nice things for her, it's downright scary.
Shouldn't he be treating you, his own wife, at least as sweetly as he's treating her? Shouldn't he fix the cabinet at your house instead of dropping everything to go unclog her sink at her house?
How do you tell him that he's being inappropriate and have him really hear you and stop embarrassing you?
Especially if you've already tried to tell him yet he still acts like it's no big deal even though it's hurting you. You don't deserve that.
But how do you get him to give you what you deserve?
Here are three ways to respond when your husband is being nicer to another woman and you want him to stop that and be nicer to you.
1. Stop Giving Her Oxygen
Of course you wish he'd just stop paying any attention to her because that's taking away from time he could be spending with you.
But what if YOU stopped giving her airtime first?
What if you stopped thinking about her, talking about her, checking to see what he texted her and all other forms of shopping for pain?
Knowing the ins and outs of his conversations with her and whether they've gone over the line may feel like it's keeping you safe.
But what if your focus on the woman he's being nicer to is making her presence in your lives bigger, not smaller?
What if you focused only on other things, things you enjoy, and gave her no oxygen?
That can be challenging, I know. But here's something you can do instead of fretting and focusing on her.
2. List 22 Things
Consider making a list of all the ways your husband makes your life better.
Think of the things he does every day, things he's done for years, that lighten your load, contribute to your kids' lives, improve your home or make you laugh.
Then I invite you to say three of them directly to him today.
It could be very simple things. He made coffee or dinner. He works hard to support the family. He told a dad joke and made everybody groan. He locks the doors before bed. He got the wifi working again. He took out the trash. He put the trash on the curb on trash day.
When you get to 22, you'll have a week's worth of gratitude and one bonus gratitude you can express to him too.
But why do that?! Why be so nice to him when he's being nice to some other woman? Isn't that just rewarding his bad behavior?
It's not him I'm thinking about. I'm suggesting you focus on what you're enjoying about your husband instead of what you don't like because what you focus on increases. If you continue to focus on what you don't like, that will continue to be your experience, in my experience.
But if you focus on how wonderful he is and how much he does for your happiness, you're going to experience more of that, in my experience.
When you're expressing your gratitude, you'll already be halfway to suggestion #3, which is to…
3. Be Pleasable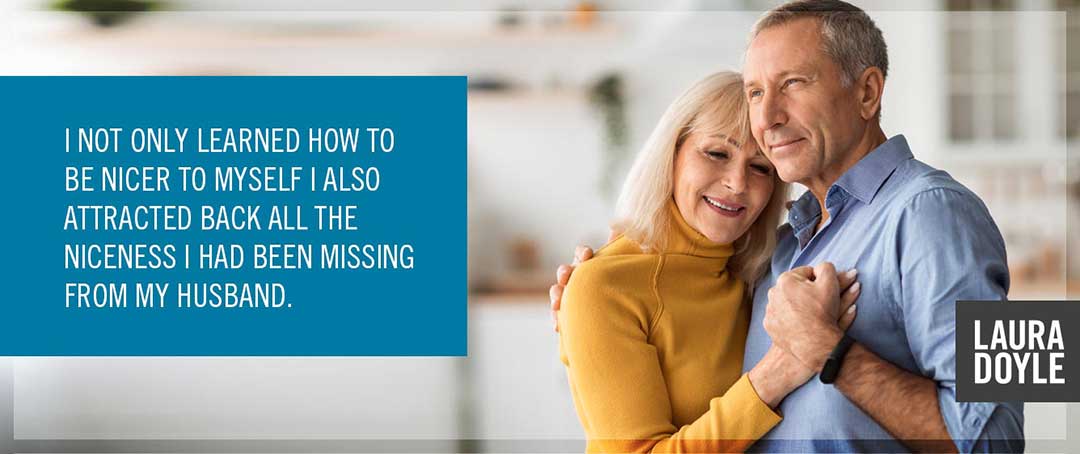 If your husband is being nicer to someone else than he is to you, it might seem like you should punish him to show him that's not okay.
But then you'd be giving yourself a permanent scowly face, which means you're going to look like that grouchy teacher nobody liked at school, which means you're also going to feel pretty miserable.
You can't wear that disapproving face and feel good at the same time, as you already know.
You'd also be discouraging your husband from being nice to you because you'd be signaling that he can't please you. So why should he try?
If your most wanted outcome is to have him be nicer to you than her, then you'll want to reinforce that you're pleasable.
You can do that by smiling when you see him.
And it's true, he may be surprised. If you've been crying or scowling or raging at him a lot, he may wonder if you've been hit in the head recently.
Why the sudden smile?
If he asks, you can just tell him that it feels good to smile and you just like to feel good.
Or you can tell him you made a list of things you're grateful for and it made you smile.
Or you could admit that you're happy to see him.
And if all three of those suggestions sound like the opposite of what you should do when he's being nicer to another woman, I get it. It's not how I was trained early on either.
And I didn't decide to start focusing on how *I* was showing up instead of what *he* was doing wrong until things got really bad.
But once I found the switch and flipped it, I not only learned how to be nicer to myself I also attracted back all the niceness I had been missing from my husband.
If you've already tried the conventional approach, like trying to punish your husband for being nice to another woman, then what do you have to lose?
Consider experimenting with bringing the grateful, smiling, nice you back to the relationship.
I can't wait to hear how your experiment serves you…