Marriage Coaching vs Counseling
What does a marriage coach do?
So, what does a marriage coach do?
Good question. The realm of marriage coaching can seem mysterious for those of us who have been to individual or couples counseling but never had a coach except in school sports.
Marriage counseling is all that any of us had for a long time. It still tends to be the point of reference when picturing professional help with a relationship.
That was the case for tens of thousands of women who have come to my campus. I get so sad hearing their war stories, especially one recurrent refrain: Those who did manage to get their husbands to go to marriage counseling report that it didn't work.
All too often, it made things worse.
Marriage coaching was the last stop on the block–and the first thing that worked for them.
I should know because I am one of those women. My husband and I spent thousands on marriage counseling, only to end up worse off than we were in the first place.
Then I tried a new approach, which got me the bedroom eyes and butt pats I'd hoped for all along.
Here are 3 key differences between marriage coaching versus counseling to help you decide which is right for your relationship.
1) Marriage Counseling Is Grounded in the Past,
Marriage Coaching in the Present and Future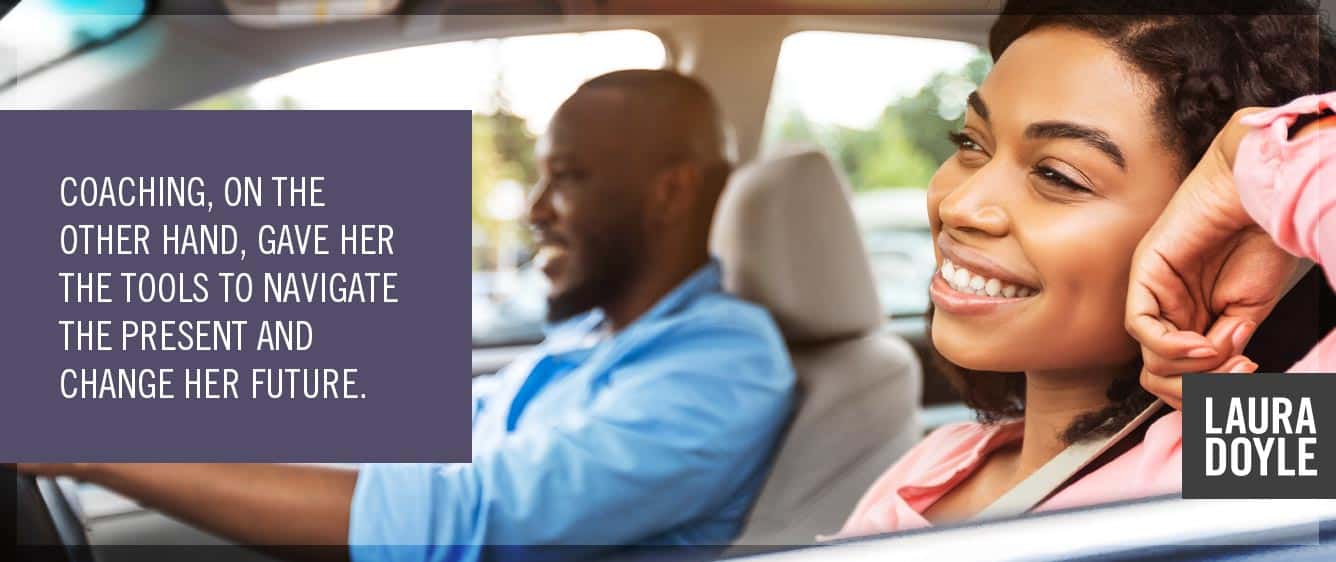 After sixteen years of marriage, Jade and her high school sweetheart found themselves fighting all the time. She just wanted peace, but they couldn't agree on anything or even make it through a day without arguing. She felt deeply lonely caring for five children and homeschooling while her workaholic husband was largely absent and struggling with a midlife crisis.
It wasn't for lack of trying. They attended marriage retreats and went to three different marriage counselors. But, no matter what they tried, they'd always go back to the same old disagreements.
Jade didn't know whether her marriage could be saved when she turned to a last resort: marriage coaching.
After her marriage coach guided her to try a couple experiments, Jade saw her husband start opening up again and wanting to be around her. She cried tears of hope because she knew she was on the right track.

Not long after that, he swept her away to Cape Cod for their 25th anniversary. She says she felt so adored and cherished, like she'd never felt before.
As the now peaceful couple could tell you, marriage counseling focuses on past hurts. What you focus on increases, so focusing on hurt increases hurt. Marriage coaching, on the other hand, gave her the tools to navigate the present and change her future.
2) Marriage Counseling Focuses on the Problem;
Marriage Coaching, on the Solution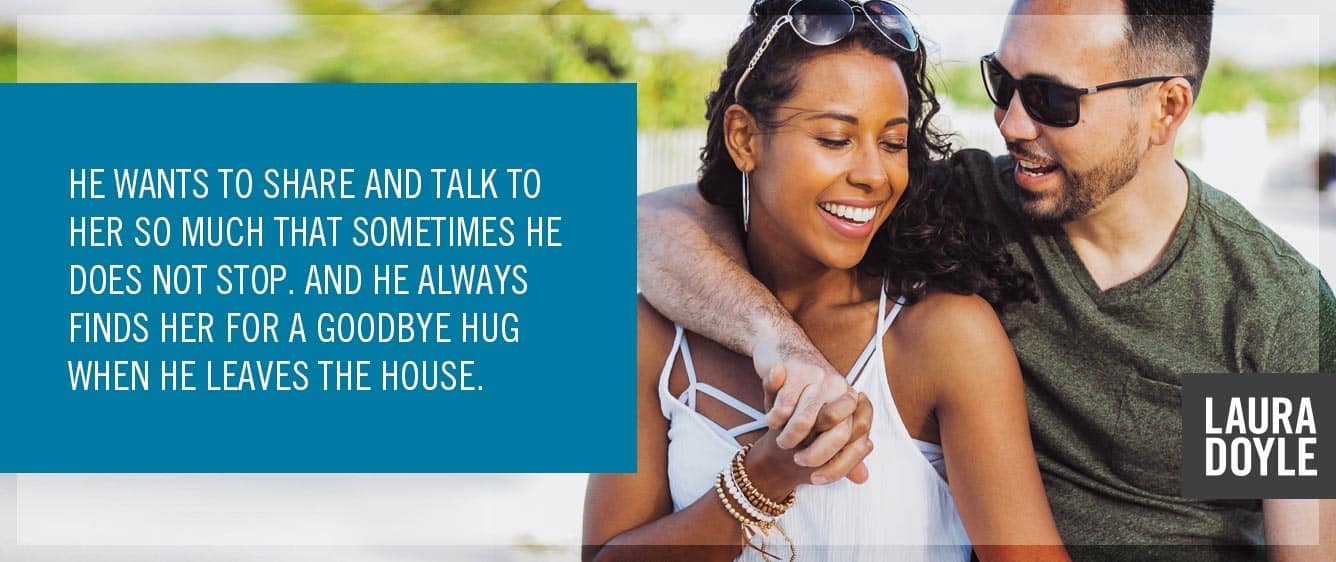 Marriage counseling assumes there is something wrong with you that needs to be fixed or mediated. In contrast, relationship coaching assumes you want to become proficient in nurturing intimacy.
Who better to guide you to such proficiency than a marriage coach, who has had a personal transformation and enjoys the benefits of the desired skills rather than the academic, or theoretical, mastery of a counselor.
Still, Tania figured she was doing the right thing going to marriage counseling, of course, and she thought that things were going well. So she was blindsided when her husband said he was not in love with her anymore and wanted a divorce.
She started group coaching and couldn't get enough, so she moved on to private marriage coaching. Things shifted throughout her coaching journey. Tania grew happier and so did her husband. They moved cross country together, where he found an apartment for them, saying it was important that he find the right place for their family.
Today they enjoy sweet moments of intimacy, including him doing thoughtful things for her like bringing home her favorites from the bakery. He wants to share and talk to her so much that sometimes he does not stop. And he always finds her for a goodbye hug when he leaves the house.
Tania is so grateful that she found the support to become proficient in nurturing that intimacy–so much so that she decided to become a relationship coach herself!
3) Marriage Counseling promotes blaming;
Marriage Coaching promotes accountability
Most people seeking relationship help are women. That's because women are the keepers of relationships. We're the ones who obsess over relationships, fantasize and fret about them.
We're also the ones who have the power to make them great if we have the right tools.
Having such power can feel like a curse at times though. If marriage is hard work, it's natural to chafe: Why do I have to be the one doing all the work? Worse, if it's on you to change this relationship, does that mean you're at fault for all that went wrong?
Not at all. It takes two to tango…
But only one to change the dance. So if you've tried to convince your partner to join you in couples therapy and failed, or maybe you don't want to drag him there or go through that yourself, then you being the keeper of your relationship is great news.
Because you can single-handedly transform your relationship, without his conscious effort. (And it doesn't have to be hard work either.)
That's why, whereas marriage counseling is for men, women or couples, marriage coaching is for women only. And it's action oriented rather than talk oriented. As a result, marriage coaching promotes emotional safety and respect, unlike the marriage counseling model inviting you to say hurtful things in front of your husband and a stranger.
Now, I'm not saying there's no such thing as a good marriage counselor.
Alma should know. She was herself a marriage counselor of thirty years who was writing a book on how to end a bad marriage–without getting a divorce.
She knew the cost of divorce firsthand. Worn out from doing all the work at home, she ended her 21-year marriage with her highschool sweetheart. She now says that this divorce, which broke his and their children's hearts, was unnecessary. At the time, she was convinced that she needed to find a different man.
But the grass was not greener. Years into her second marriage, the old hurt was back. Both she and her husband were on the fence.
Then, while researching her divorce book, Alma found marriage coaching. That's when surprising things started to happen.
Her husband was showing up as her hero. Yet he was the one expressing appreciation for her. He validated all of her efforts when he said, "Our marriage is the best ever because of YOU and all that you've been willing to learn."
She started to feel increasingly satisfied and secure. She also felt called to leave her marriage counseling practice to coach women instead.
Recently, she mentioned "I would love to get away," and her husband replied "Why don't we go on a little cruise?" After twenty-seven years of marriage, Alma is gushing like a schoolgirl because she's so excited about their "first vacation together in forever!"
Something remarkable about Alma is her accountability. When there are bumps in her marriage, she inspects her side of the street. It's not about taking the blame but about knowing she has the tools to turn things around.
That's why she's one of the best marriage coaches in the world.
Imagine if, like Alma, you were to make a few changes. I bet you'll be surprised how quickly things can change. Most women report a big improvement in about two weeks after starting relationship coaching.
To find marriage coaching near you, join the waitlist right here.